Woman got death threats for putting tape over her dog's mouth.
You gotta wonder how far is too far when it comes to posting shit on the internet!
When people want to make others laugh, they post funny pictures or jokes. But sometimes, they cross the line between funny and absolutely stupid.
A Florida woman got shook after she posted on social media her dog's mouth being taped shut with duct tape.
Katie Brown is hiding somewhere in the country waiting for the heat to die down. She got a ton of death threats for her Facebook posting.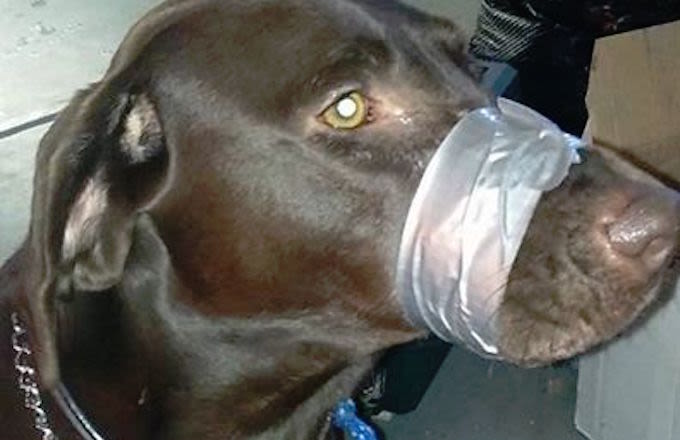 Not funny. Just plain stupid.
It was shared more than 300,000 times within 36 hours and police were overwhelmed with outraged phone calls from dog lovers around the world demanding they take action, reports the Orlando Sentinel. On Facebook, Brown says she's a South Daytona resident, but police there say she was out of state, possibly in Avon, Conn., when the dog was abused, NBC News reports. The department promised on its Facebook page that it was in contact with her family members and other state agencies as part of its investigation and pleaded with the public to stop "flooding our emergency phone numbers."
Cops in Avon say they were also overwhelmed with calls, while a spokesman for the sheriff's office in Volusia County, which includes South Daytona, tells the Daytona Beach News-Journal that while it is "great that everybody's concerned for the animals and for dogs," the deluge of calls and emails has "literally shut our police department down." Police in South Daytona say they've been told the dog is OK and add they're still trying to locate Brown, whose duct-tape photo had the caption, "This is what happens when you dont [sic] shut up!!!" The original post has now been deleted, but a follow-up one tells people not to "panic" because "it was only for a minute," NBC reports.