The officer got benched after he lied about the arrest of Sandra Bland.
The video is long and it describes the encounter. The Texas State Department of Public Safety release the video. I want to warn you that it's explicit language. They pulled the video after it was revealed that a portion of the dash camera video showed edited features.
The Texas state patrol officer name is out there and he's being benched after he acted inappropriately towards Sandra Bland. Now the officer is now getting death threats and condemnation from the Texas state lawmakers.
In the video, it was a routine pull over. The officer gave a drive a pull over for speeding. He let the driver off with a warning. He was in his police vehicle when he observed Sandra Bland driving.
Texas State Highway Patrol officer Brian Encinia observed Bland turning from the college parking lot without proper signal. It was a rolling stop which is clearly a violation of motorist law. Okay, that's when he circled around an proceeded to pull her over.
He pulls her over. Encinia details why he pulls her over. She complies and gets her license and registration ready for the officer. As Encinia proceeds to his police vehicle he runs the plates and writes out his warning.
She was clearly upset over the pull over. Sandra told the officer that she gave him room to pass. She lights a square up and Encinia tells her to put it out. The Washington Post then notes the confrontation.
"Would you mind putting out your cigarette, please?" Encinia said.
"I'm in my car, why do I have to put out my cigarette?" Bland answered.
"Well, you can step on out now," Encinia said.
Bland refused, saying she did not have to step out of the car.
Encinia opened the driver's door and attempted to physically remove Bland from the vehicle.
"I'm going to yank you out of here," Encinia said as the two struggled in the car. "I'm going to drag you out of here."
"Don't touch me, I'm not under arrest," Bland said.
"I will light you up!" Encinia said, while pointing the Taser at Bland.
At a press conference on Tuesday, State Senator Royce West said that after viewing the video, he could confirm that Bland was threatened with a Taser by the officer.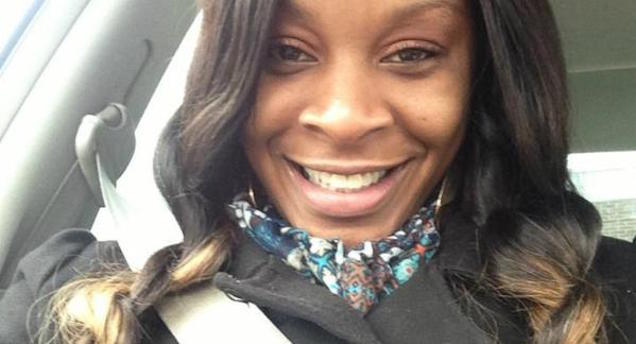 Texas lawmakers call for an investigation.
Details of the confrontation were not included in the arrest warrant written by Encinia, which officials also released Tuesday.
The arrest warrant detailed state trooper Brian Encinia's version of events. The warrant does not mention the Taser, nor does it elaborate on why Encinia ordered Bland out of the vehicle.
During the incident, Bland repeatedly asks why she is being arrested. The remainder of the confrontation occurs outside of the view of the camera, but the audio captured what appeared to be a struggle.
Bland is heard saying that the officer "just slammed my head to the ground."
Later, when a female officer arrives at the scene, Encinia tells her that Bland "started yanking away, then kicked me, so I took her straight to the ground."
In his arrest warrant, Encinia wrote that Bland — a 28-year old African American woman — was pulled over for failing to signal a lane change and he "had Bland exit the vehicle to further conduct a safe traffic investigation."
According to Encinia, "Bland became combative and uncooperative."
"Numerous commands were given to Bland ordering her to exit the vehicle," Encinia wrote. "Bland was removed from the car but became more combative."
Brian Encinia was benched.
He added that Bland was handcuffed "for officer safety" but she "began swinging her elbows at me and then kicked my right leg in the shin." Encinia said he suffered from pain in his right leg and had small cuts on his right hand.
"Force was used to subdue Bland to the ground to which Bland continued to fight back," he added.
Bland was charged with assault on a public servant then booked in the Waller County Jail, where she later died.
"There are questions that need to be answered as it relates to the arrest," noted West, who added that what transpired in the arrest would be part of the ongoing investigation.
Asked whether Bland deserved any blame for the events that led to her arrest and death, West replied: "No."
Lt. Gov. Dan Patrick cautioned that everyone should wait for the facts of the case to unfold before making a determination about blame.
"There's a rush to judgment too often in America," Patrick said at the press conference on Tuesday. "But here in Texas, I can tell you that we believe in total transparency and we will find the truth wherever that leads."
"If indeed she took her own life, that is a question that has to be asked," he added.
Encinia, who has been a state trooper for about a year, was placed on administrative duty on Friday pending the outcome of the investigation, according to the Texas Department of Public Safety, which said that the officer violated the agency's procedures during the traffic stop.
"Regardless of the situation, the DPS state trooper has an obligation to exhibit professionalism and be courteous," said DPS Director Steve McCraw. "That did not happen in this situation."
The Waller County lockup is under investigation. The law stated that at 6:30 a.m. on July 13, Bland refused breakfast, and a half hour later, around 7:00 a.m., told a jailer "I'm fine."
According to Captain Brian Cantrell, about an hour after stating that she was fine, Bland asked via intercom how to make a phone call. Cantrell stated that Bland was informed she could use her prison cell's phone with a pin, but stated there was no record Bland then made any call.
Police stated that at 9:00 a.m., Bland was found "in a semi-standing position" hanged in her cell.
The next day, shortly after noon, Police issued a statement that Bland had been found dead in her cell, and that they believed she had hanged herself. An autopsy conducted by the Harris County Institute of Forensic Sciences concluded that Bland died through asphyxiation, classified her death as a suicide. Police stated that Bland had used a plastic garbage bag to hang herself.
On July 20, one week after Bland's death, Texas police released video from a motion-activated camera in the hallway outside Bland's cell.
The video has no recording from 7:34 to 9:07 a.m., but shows Bland's discovery by a jailer after that time.
Still a whole lot of unanswered questions into this!
Me and S. Baldwin are following this controversy. The tag added is Sandra Bland.