Civil rights leader told tales of Blackness. In reality she's a white woman. Her family outed her in this bitter family feud.
I think I've talked about this before. But if I haven't, let's get down to business. The oldest civil rights group is facing a controversy. One of its chapter presidents is under fire for being a wolf in sheep's clothing.
Before I go into it, let's first get this out the way.
Yes, there are White people in the National Association for the Advancement of Colored People.
Yes, the NAACP is progressive on issues such as civil rights, gay rights and gun control.
Yes, the NAACP has been controversial in some of its past commentary. This issue is considered a controversy in the eyes of agitators. It's not big but the junk food media will make it big.
The Republican Party and conservatives want to claim they founded the NAACP back in them days. But in the same breath they now call it a "racist" organization because of its progressive stances on social issues.
All the good she's done and they still want her out.
It's not a solely Black group. The NAACP is a group devoted to the equal rights for all Americans.
Enter Rachel Dolezal, the president of the Spokane chapter of the NAACP. She's under fire because she falsely claimed that's she Black. She's dodging the cameras and closing her social media off.
It's a big topic in the city of Spokane and the junk food media is invested in outing the fake.
CNN reports the mother of Rachel Dolezal made the claim that she is white Her mother said Friday that her daughter "has not explained to us why she is doing what she's doing and being dishonest and deceptive with her identity."
Her mother told the local junk food media that their daughter has never been black, biracial or non-white. She even showed hundreds of pictures of her in her "natural look".
Ruthanne Dolezal said her daughter Rachel gradually began referring to herself as black around 2007 and that "she has never claimed to be biracial or African-American in our presence."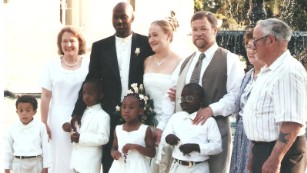 She married a Black man and became a step-mom to his family. Her parents probably disapproved of it.
The parents last talked to their daughter "some years ago," with Ruthanne Dolezal saying "Rachel has not wanted to have contact with us."
The NAACP issued a statement Friday on Rachel Dolezal's "enduring a legal issue with her family," saying, "We respect her privacy in this matter."
"One's racial identity is not a qualifying criteria or disqualifying standard for NAACP leadership," the group said. "The NAACP Alaska-Oregon-Washington State Conference stands behind Ms. Dolezal's advocacy record."
For one thing, why discredit the good that's been done by Dolezal?
So what you're saying is that she's a phony!
She lied Black to become the president of region's NAACP.
Nice tan.
So you're telling the public that because she's born White (or refused to be labeled as such), you want her out?
So if she acts, talk like and slept with Black, she shouldn't be a part the NAACP.
Nice. So I guess she's going to be fired out the cannon for being White.
Hate to tell you folks, that White people are welcomed into the NAACP.
The NAACP also was founded by three White people.
This comes in the wake of death threats being sent to the NAACP.
They are trying to discredit her as a legitimate civil rights leader. The agitators are trying to say she staged the
death threats
that were sent to the Spokane NAACP.
Black women: Do you believe that Dolezal's actions merit her being fired from the NAACP?
Black America: Dolezal is working for the good of all Americans as a part of the NAACP. Is the fact that she doesn't want to be labeled by race an issue for you?
Me and S. Baldwin will follow this controversy.