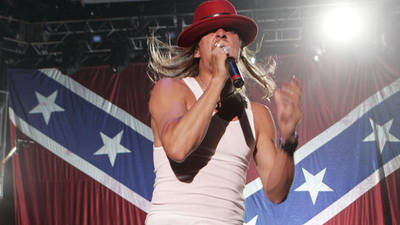 Entertainer sparks controversy over his embracing of the Confederate flag.
Robert Ritchie (Kid Rock) once again brings controversy. Before he became this total asshole, he actually is a pretty nice guy. He actually came to Dayton to perform at the Nutter Center. He actually filmed his encounters with fans and random strangers.
The former rapper now rebel country rocker is a proud Republican who wears the stars and bars with pride. The Confederate flag being lowered from the South Carolina capitol was met with cheers and conservative outrage.
At the Kentucky Speedway, the flags flew.
At the Summer Country Concert in Minister, Ohio, the flags flew.
And when that flag when down from the state capitol grounds in South Carolina, you seen a bunch of protesters with the flag swinging.
The Michigan born entertainer moved to Alabama and found himself embracing Southern hospitality.
He's not going down without a fight.
Hanging around with beer guzzling Hank Williams, Jr. and high kicking Chuck Norris turned him into a wackadoodle.
The entertainer told his fans at a concert that if anyone hates the Confederate flag, they can suck.....Well you know!
Yeah, he told the protesters and the political correctness crowd to kiss his ass....
He aimed at Rev. Perm who recently complained about him waving that flag around.
Of course the network that may have inspired that White terrorist to kill nine innocent church goers in Charleston was happy to have a discussion on it.
Kid Rock has a son who is a performer as well. His own son, Robert Ritchie, Jr. is half black.
Idiotic.
The NAACP once again in hot water. The NAACP turns a blind eye to issues. This would be the latest controversy facing the oldest civil rights organization.
Kid Rock and his son were honorees at the NAACP Convention.
The NAACP recently face controversy after they got upset over Rachel Dolezal. The former president of the Western chapter was outed as a White woman. Dolezal hid her race because of her family's hatred of her dating Black men. They fired her out the cannon despite her work.
They also looked the other way during the Donald Sterling controversy. The former NBA owner told his mistress that he didn't want Black people at the Los Angeles Clippers games.
Kid Rock has the right to be "Confederate Yankee". He can take that flag and wrap it around his ass, his neck and his privates. No one is stopping him. If it can help push Rebel Soul and attract a base of white extremists, more power to him.
But as soon as another mass murder happens in America, I hope they don't find his music in their possession.