City of Boston praying for a speedy recovery of one its own. Boston officer John Monyihan was critically injured in gunfire after a suspect got the drop on him. He was praised by President Barack Obama for his heroism.
Boston is dealing with a tragic situation. An officer who gained national recognition was critically injured by a suspect after a police stop.
We here at Journal de la Reyna send our prayers to the Officer John Monyihan. We pray for a speedy recovery.
Monyihan is fighting for his life. He was a former Army Ranger who decided to live to public service. The officer is 34 years old and has a girlfriend and children. He served for six years as an officer for Boston. He was also an officer who aided in the 2013 Boston Marathon bombing and shooting event where Dzhokhar and Tamerlan Tsarnaev planted two explosives near the finish line. The bombs killed three and injured hundreds of people. Monyihan gained national recognition from President Barack Obama after he assisted a fellow officer who was injured in gunfire.
The brothers managed to kill a MIT officer before the law put Tamerlan down. Dzhokhar was eventually caught and now is in court. The young Tsarnaev will get the GAS if found guilty on federal mass murder charges.
The gunman shot him in the face and the bullet was lodged in the right side of his face by ear. They placed him into a medically induced coma.
President Barack Obama was notified of the situation. Of course, Boston residents are sending their prayers to him. Democratic mayor Marty Walsh and Republican governor Charlie Baker have both expressed their prayers as well.
The suspect is 41 year old Angelo West. West has a history as a criminal. He was apparently being stopped by the law for some infraction.
West was stopped by Monyihan. West would jump out of his vehicle raise his arm and put the Magnum .357 in position. He would fire it at point blank range hitting the officer.
West would eventually try to escape. The moment he flashed that firearm, the law put the lead salad in him. West would die of his injuries. The passengers in his vehicle were not injured but later arrest. They may face charges. Even though the passengers weren't the shooter, the law can make them accomplices in the firing on an officer.
A witness was grazed by gunfire from police. Those who shot the witness would be place on administrative leave. Standard procedure when an officer shoots his firearm.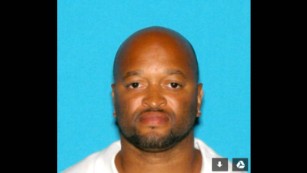 Angelo West shot at Boston police. He paid the price with a lead salad.
Angelo West has given the racist right a reason to denounce the BlackLivesMatter movement. The movement was sparked by the anger bubbling in Ferguson, MO by the police shooting of unarmed resident Michael Brown. Brown's death led to national protests and international outcry for better policing. It also gave the opponents something to go after. The opponents slander the name of the Brown and called the protesters "misinformed" and even raised their anger at President Barack Obama for citing his experience being Black in America.
After all, since he's came into the White House, you've heard an influx of Black criminal stories coming from the racist right. The outlets such as Loserville, the conservative Craigslist, The Daily Nothing or even asshats like Colin Flaherty and Charles C. Johnson have flourished in this stuff.
They give White America a reason to hate Blacks. Even though criminal acts are colorless, the way these outlets magnify suspects causes Whites to always suspect Blacks, Latinos, illegal immigrants, Muslms and foreign nations as being the reasons for this country being fucked up.
There's blogs like Sissyirishman, DailyWhateverFuckKenn, and Angry White Wuss that are sites that give credence to Black on everyone crime. These extremists would make their blogs flourish in local stories that spin criminal acts by Blacks.
See Fred101 is an example of the extremism that flutters into our comment section. This anonymous commentator appears frequently in stories I've posted focusing the three key elements: race, politics and crime.
In my response to the anonymous trolling, I've posted the six things to attract them. Give them a topic that they seem to obsess over. Kind of like, if I said something about a product in negative way, expect the criticism from someone who spins it in a positive light.
No one seems to understand that we reserve the right to remove comments we deem offensive or unproductive. I mean it's not productive to read word vomit.
Blogging about politics is often regarded as controversial. I understand that some do not agree with the views of me, S. Baldwin and the other contributors post here. I mean we're no different.
We are often here to post and we're not going anywhere.
So if you're not comfortable with the opinions or stories posted here, you have a right to view a blog of your choosing. We're not holding a gun to your head telling you to read our blog.