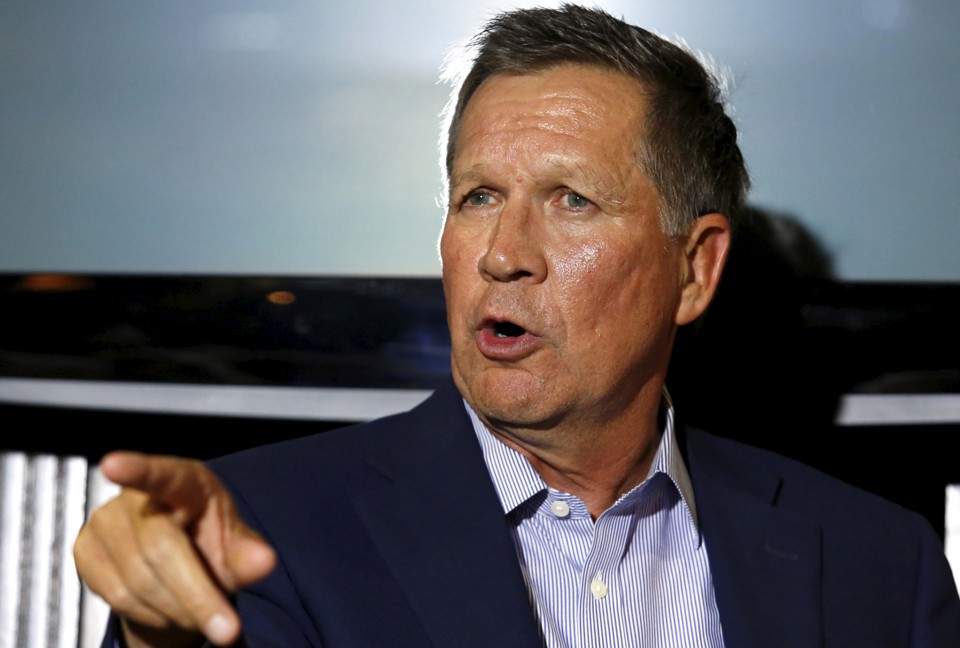 Mr. Moderate signed a bill stripping Planned Parenthood of its funds.
This will head right to the U.S. courts. The imbecile who claims to bring Americans together went back to his old ways. Ohio governor John Kasich decides to sign into state law a bill that will strip funding from Planned Parenthood and abortion providers.
The Ohio governor is struggling for victory in this bitterly fought Republican presidential primary race. Many of the establishment heads believe that he's a doomed candidate. They're not wasting time on him. So they're circling the wagons around political novices Marco Rubio and Ted Cruz.
Kasich wants to make Americans believe he's actually an unitier not a divider. Right now, I believe he's full of shit. Kasich wants to prove to the extremists that he's lockstep in destroying Planned Parenthood. CNN reports that governor signed the bill while he was in Ohio. He prepares to do some campaigning in Michigan.
Planned Parenthood isn't explicitly named in the legislation, but the law will prevent more than $1 million in funding from the state health department from going to the nonprofit to fund programs such as HIV testing, health screenings and prevention of violence against women.
Kasich, who's tried to project a more moderate image as a Republican presidential candidate on some issues, had been expected to sign the measure. A spokesman for the governor said earlier this month that he intended to sign the bill when it reached his desk. He did so Sunday, a day after finishing a distant fifth in South Carolina's primary.
The bill was swiftly denounced by Planned Parenthood President Cecile Richards.
"This legislation will have devastating consequences for women across Ohio," Richards said in a statement. "John Kasich is proudly eliminating care for expectant mothers and newborns; he is leaving thousands without vital STD and HIV testing, slashing a program to fight domestic violence, and cutting access to essential, basic health care."
Planned Parenthood in Dayton, Ohio. There were protesters who showed up to protest the facility after conservative activists sneaked into a facility in California and Texas to "expose" evil doings. It turns out to be their "exposing" to be thier undoing.
On the campaign trail Kasich frequently talks about the importance of funding for expecting mothers and newborn babies. A spokesman for Kasich's gubernatorial office, Joe Andrews, said in a statement the new Ohio law is consistent with those views.
"The Ohio Department of Health has at least 150 other sub-grantees and contractors for the affected grants and projects addressing such issues as new born babies, infant mortality, expectant mothers, violence against women, and minority HIV/AIDS," the statement said. "ODH will reallocate funding from ineligible providers under the new law to other currently eligible providers, ranging from local health departments and community organizations to hospitals and universities. These organizations will be required to submit proposals in order to receive funding."
Many Republicans have said Planned Parenthood should be defunded, after controversial videos featuring group officials purportedly discussing the sale of fetal tissue surfaced last summer.
But about a month ago, a Texas investigation into Planned Parenthood culminated in an indictment -- of the organization's accusers instead of the group.
The Harris County District Attorney's office announced that Planned Parenthood Gulf Coast had been cleared in the two-month-long investigation.
But the grand jury did indict two individuals who were involved in making secret recordings of the group that were released to publicly discredit the group, which provides health services and abortions.
David Daleiden and Sandra Merritt were indicted for tampering with a governmental record, a second-degree felony, and Daleiden was also indicted on the count of prohibition of the purchase and sale of human organs, a class A misdemeanor, according to the Harris County district attorney.
Republicans sure love to get into the business of people. They will deny women access to health care.
They want to drug test Americans who are living from paycheck to poverty for a slither of the safety net. So if you want food stamps, financial aid, student loans, earned child credits and emergency shelter, pee in a cup and lose a portion of your hair.
They want to monitor a person practicing a religion that's not Christianity. So if you're an atheist, Muslim, Mormon or Scientologist, be prepared to have the feds looking into your place of worship or your non-beliefs.