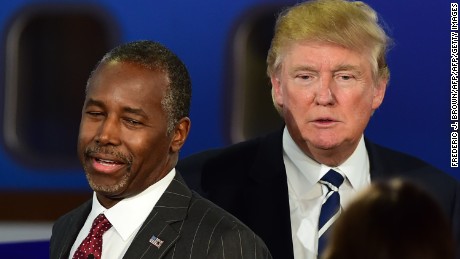 The Republican Party is in such disarray. There's thoughts of a mutiny within the party.

The Republicans are feuding with one another over the direction of the party. There's talk of a brokered party. Donald Trump isn't the only one thinking about bolting from the party. It seems like Ben Carson is now having thoughts of becoming a spoiler if he's rejected as the Republican nominee.

Trump who is leading in national polls is a threat to the Republicans and Democrats.

Trump's fiery rhetoric hasn't really dented him in the polls.

But Ted Cruz is catching up and he's determined to take down Trump. The Texas senator was recorded saying that Trump and Carson are just hype. He believes they'll fail at becoming the nominee.

That set Carson off.

Many big name donors were disappointed with the flock of candidates.

They said that the race is unpredictable and if Trump, Cruz or Carson should become the nominee, many establishment Republicans may not support it.

Reince Priebus is very concerned that a brokered party could spell disaster for the party as a whole.

Donald Trump's rise to the top of the 14-candidate field has confounded establishment Republicans who have been waiting in vain for the New York billionaire's insurgent campaign to collapse.

Trump has repeatedly threatened to embark on an independent run for the White House if the party does not treat him fairly.

Now as usual, I am expected to hear from concern trolls about the Democrats and the mess they got on them. First things first, Hillary Clinton is the clear front runner in the race for the Democratic nomination. She's not getting too much press coverage. I mean she has appeared on talk shows and GOP Sundays to talk about issues. Republicans have a 3:1 ratio in media coverage and they still complain about it.

Bernie Sanders is leading in New Hampshire and catching up in Iowa. The independent senator and many operatives in the Democratic Party are pissed that the junk food media is giving too much time to the Republicans and Hillary Clinton.

Ask Martin O'Malley about how he's doing. He's trailing so bad, he doesn't even get media coverage.

Democratic National Committee chairwoman Rep. Debbie Wasserman-Schultz (D-FL) and co-chair Rep. Tulsi Gabbard (D-HI) are feuding with one another over the direction of the party. Gabbard, a conservative Democrat is concerned that Clinton's vulnerabilities could harm their chances at winning.


Concern trolls will say Bernie Sanders, Jim Webb and Martin O'Malley are tempted to go independent too. Why don't the junk food media talk about Jim Webb threatening to go independent?

Well here's a shocker to the concern troll. Jim Webb was polling at ZERO. Martin O'Malley is polling at ZERO.

Bernie Sanders is polling at 25%. That is a quarter of the Democratic primary voters. Sanders could spell trouble for Hillary Clinton.