Hulk Hogan is scrubbed from the WWE.
The Hulkster was fired out the cannon this month. Something happened over the past few weeks got the World Wresting Entertainment, Inc pissed.
The veteran an all-American wrestling icon was caught on tape making an alleged racist rant.
The WWE wiped him out of existence.
I knew that he was under fire for allegedly having an affairs with numerous women. But this controversy has touched a nerve with Vince and Linda McMahon.
This wasn't the last time Hulk Hogan got into trouble where he was bounced from WWE.
The WWE may have finally put the cannon in position and fired him right out the arena.
— Jason McIntyre (@jasonrmcintyre) July 24, 2015
An audio clip has surfaced online in which Hogan repeatedly uses NIGGER during an interview discussing his early career and the use of the word on screen, although it appears this is from around 2012 and not the incident leading to the controversy.
WWE dissociated themselves from Hogan, removing all references to Hogan from their website, including his listing as a judge for Tough Enough and his merchandise from WWE Shop.
Hogan quickly took to Twitter express sadness and hope. He wished his fans well.
In the storm I release control,God and his Universe will sail me where he wants me to be,one love. HH

— Hulk Hogan (@HulkHogan) July 24, 2015
Hogan by government name Terry Bollea is a professional wrestler, celebrity agitator, business and media mogul. He resides in Clearwater, FL.
Hogan enjoyed mainstream popularity in the 1980s and 1990s as the all-American character Hulk Hogan in the World Wrestling Federation (WWF, now WWE), and as "Hollywood" Hulk Hogan, the villainous nWo leader, in World Championship Wrestling (WCW). A regular pay-per-view headliner in both organizations, Hogan closed the respective premier annual events of the WWF and WCW, WrestleMania and Starrcade, on multiple occasions. He was inducted into the WWE Hall of Fame in 2005. He was signed with Total Nonstop Action Wrestling (TNA) from 2009 until 2013, where he was the on-screen General Manager.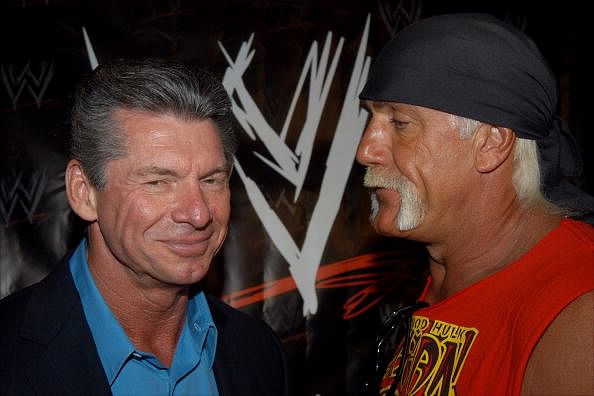 Vince McMahon told Hogan to bounce.
IGN described Hogan as "the most recognized wrestling star worldwide and the most popular wrestler of the '80s".
Hulk Hogan is a 12-time world champion being a six-time WWF/E (World Heavyweight) Champion and six-time WCW World Heavyweight Champion. He is the third longest combined reigning WWF Champion of all time (after Bruno Sammartino, and Bob Backlund), the longest-reigning champion of the 1980s, and holds two of the ten longest title runs in WWF/E history, having held the title for 1,474 days from 1984–1988 (the fourth longest reign of all time) and 364 days from 1989 to 1990 (the 9th longest reign of all time). He is also the longest-reigning WCW World Heavyweight Champion of all time, with a 469-day reign from 1994–1995. Hogan won the Royal Rumble in 1990 and 1991, making him the first man to win two consecutive Royal Rumbles.