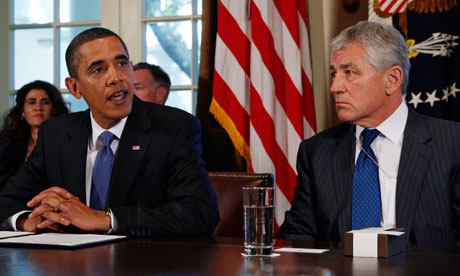 Chuck Hagel is resigning from the Defense.
The Secretary of Defense is resigning CNN confirms. The Associated Press reports that Chuck Hagel has submitted his resignation to President Barack Obama. He will stay on until the inept Senate confirms a successor.
Chuck Hagel who has been with Obama for a year has faced criticism over the handling of foreign terrorist groups like the Islamic State taking its reign in Iraq and Syria. Hagel is the first senior Obama adviser to leave the administration following the sweeping losses in the midterm elections.
Republicans who won control of Congress this month vow to fight and stall nominations because their upset the president promised executive order to ease regulations on immigration.
The official said both Hagel and Obama "determined that it was time for new leadership in the Pentagon," adding that they had been discussing the matter over a period of several weeks.
Obama was to announce Hagel's resignation Monday. The president is not expected to nominate a new Pentagon chief Monday, according to one official.
The senior defense officials insisted on anonymity because they were not authorized to discuss the matter by name ahead of Obama's official announcement.
Hagel is a Republican who served as senator from Nebraska and became a critic of U.S. involvement in Iraq. Obama nominated him to succeed Leon Panetta as Defense Secretary in his second term.
Hagel served in the Vietnam War and received two Purple Hearts.