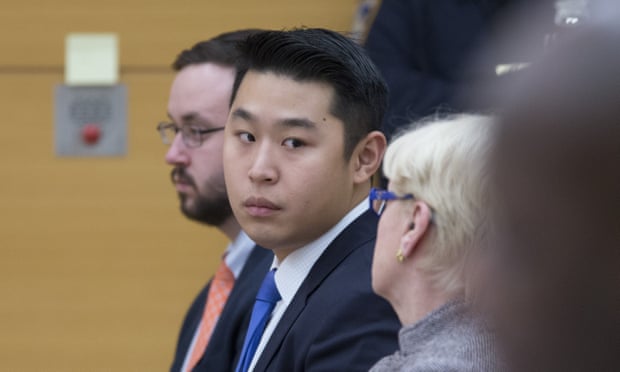 Former rookie cop Peter Liang got served in the involuntary manslaughter of Akai Gurley.
In 2014, former NYPD officer Peter Liang was working a housing unit in Brooklyn. He was patrolling the dark stairwell of a public housing complex when he was spooked by Akai Gurley.
Liang would put a slug in Gurley. The slug would kill him instantly.
Well he was convicted of involuntary manslaughter Thursday. The verdict sealed his fate. He was immediately fired from the NYPD and will face up to 15 years in the iron college when he faces sentencing in April.
Liang, who is of Asian-American decent would be the first NYPD officer in long time being convicted of a criminal charge.
Liang said during trial said that he drew his pistol as he and his partner patrolled the darken 8th floor of the Louis H. Pink Housing Comple in Brooklyn. He said he flinched when he was startled by a noise, which he said caused the gun to discharge.
In a tearful testimony, Liang said that he claimed that his finger never touched the trigger.
"I was panicking, I was in shock, in disbelief that someone was actually hit," he told jurors.
Prosecutors said that pressure being applied to trigger was caused by Liang. The judge allowed jurors to test the trigger of the firearm.
Liang and his partner testified they didn't realize anyone had been shot for several minutes and said they didn't perform CPR on Gurley because they felt untrained.
The family of Gurley was not fazed by the emotional testimony of Liang.
Akai Gurley was unarmed. The NYPD shot him in cold blood. One of their officers paid the price.
"Peter Liang, my son was no accident," said Sylvia Palmer, the victim's mother. "You murder my son. I need justice for my son. I need a conviction of Peter Liang."
Mayor Bill de Blasio who is currently feuding with the Patrolman's Benevolent Union president Patrick Lynch carefully chose his words. He said Gurley's death was a tragedy.
"The jury has now spoken, and we must respect the decision." said de Blasio. "We hope today's outcome brings some closure to the Gurley family after this painful event."
Lynch on the other hand, was full on dickhead. He said in a statement, "This was a terrible and tragic accident and not a crime. This bad verdict will have a chilling effect on police officers across the city because it criminalizes a tragic accident."
Again justice was serve. Regardless of the event, this was a reckless decision by Peter Liang. He should pay for his crime. In split decision tactics, you don't know. But for him to fire his service weapon in the dark was a bad move. Regardless of it being an "accident", his decision to not render CPR and ask for a union rep the moment he fired his service weapon showed the callous actions that led to his death.
And for the racist right to justify Akai Gurley's death by bringing up his mugshot and his past criminal history is totally pathetic. The fact that his criminal history doesn't justify his death. He was unarmed and he was shot by a reckless man who operated a gun and tried to protect himself with a badge.
The scum that Rupert Murdoch owns (i.e. The New York Post, The Wall Street Journal, Roger Ailes and Fox News) wrote that Gurly had prior arrest for minor events including drug charges. That got spread around to the racial asshat on social media. One being Colin Flaherty, a defender of White extremists and provocateur of Black on Whatever criminality.
World News Today continues to send our prayers to the family of Akai Gurley.