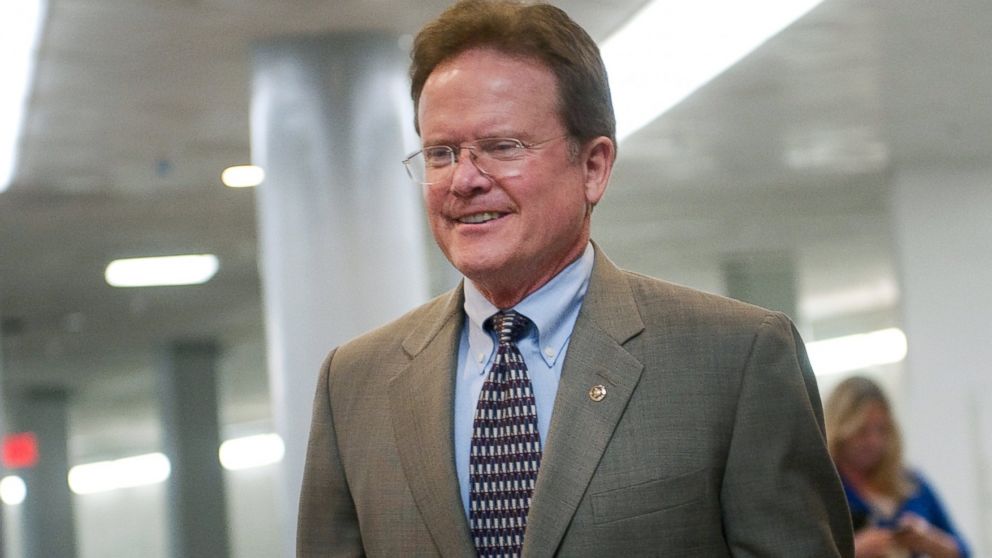 Former senator Jim Webb decides to run.
One term senator Jim Webb decides to put his makeup on. He's running for the blue nose. He makes five. There are five Democrats running for the clown car.
I get this feeling back some time ago about Webb being a strong nominee in 2008. But after I read about his marriages and his mishaps as a senator, I ruled out Webb being a strong contender.
Webb is often looked at as a VEEP or Defense Secretary. But who knows?
Webb has entered the race in hopes that he can usurp Hillary's crowning.
Webb is an American politician and author. He has served as a United States Senator from Virginia, Secretary of the Navy, Assistant Secretary of Defense, congressional staffer, and Marine Corps officer. In the private sector he has been an Emmy-award winning journalist, a filmmaker, and the author of ten books. In addition, he taught literature at the United States Naval Academy and was a Fellow at the Harvard Institute of Politics. As a member of the Democratic Party, Webb announced on November 19, 2014, that he was forming an exploratory committee to evaluate a run for President of the United States in 2016.
Webb is married to Hong Le Webb, a Vietnamese-American securities and corporate lawyer, twenty-two years his junior. Hong Le was born in South Vietnam and escaped to the United States when she was seven, after the fall of Saigon. She grew up in New Orleans, Louisiana. They married in October 2005.
Webb with wife Hong Le.
Webb was married twice previously, and has four grown children. Hong Le and Jim Webb also have one child together, Georgia LeAnh, born December 2006. Webb is also a stepfather to Hong Le's daughter from a previous marriage.
Jim Webb speaks Vietnamese.
His second marriage was to health-care lobbyist Jo Ann Krukar in 1981 who also assisted in his 2006 Senate campaign. They have three children: Sarah, Jimmy, and Julia. Jimmy Webb was a rifleman and Sergeant in the United States Marine Corps, and served a tour in Iraq with Weapons Company, 1st Battalion 6th Marines. In tribute to Jimmy Webb and "all the people sent into harm's way", Webb wore his son's old combat boots every day during his 2006 Senate campaign.
His first marriage was to Barbara Samorajczyk, who is a member of the Anne Arundel County, Maryland, Council. They divorced in 1979. They have one daughter, Amy Webb, who was eight at the time of the divorce.
On July 2, 2015, he announced that he would be joining the race for the Democratic nomination for President.
Each of them are no match for perennial candidate Hillary Clinton.
Jim Webb and his older children.
Webb is fighting his old buddies. One was a senator who would later become a presidential candidate and later the U.S. Secretary of the State. The other was a congressman who would later become a senator. The other two are governors who left office without memorable legacies.
So Webb is taking betting his odds on winning. When he served only one term, refused Obama's 2008 offer for the VEEP, and his wishy washy stances. It would say that Webb chances are like Martin O'Malley and Lincoln Chafee: Slim to none.
Sen. Bernie Sanders (I-VT) is proven to be a formidable challenger. His first 10,000 supporters happened in Iowa. You know the state that Barack Obama won on his path to victory.
So now there's five Democrats running.
Four formers and one current.
Hillary Clinton
Martin O'Malley
Sen. Bernie Sanders (I-VT)
Lincoln Chafee
Jim Webb
Note that Sen. Bernie Sanders is an independent who caucuses with the Democrats in the Senate. He now has to formally become a Democrat in order to be on the ballot.
There are more than a dozen Republicans running for president. The Republicans fear that the candidates will beat each other up and ruin their chances yet again.
The Democrats have a very weak field. Hillary Clinton lost in 2008 in the Democratic primaries. What gives her the right to be the chosen one? She couldn't beat Barack Obama.
Obama lost one election to Rep. Bobby Rush (D-IL).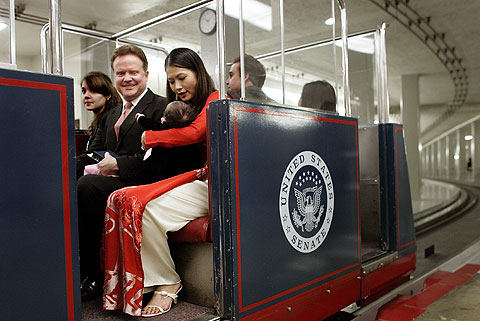 Webb with his wife Hong Le and their daughter.
Barack Obama fatigue is something Democrats worry about. People are so turned off to politics due to the toxic nature of lawmakers and the president.
Hillary Clinton and Jeb Bush are way past the limelight. They need to find something else to do.
The Republican field isn't weak. It's not strong though. It's a bunch of clowns shouting out of bullhorns. Republicans have no strong ideas and they are focused on intrusion and isolationism.

They given up on the diversity strategy after conservative agitators complaints.