black-ish deals with a family member coming out as a Republican.
ABC sitcom featuring Anthony Anderson and Tracee Ellis Ross takes on Black conservatism.
black-ish is a go for a second season. The show is one of the very few Black sitcoms on right now.
It was created by Anderson, Kenya Barris, Laurence Fishburne and Larry Wilmore.
black-ish, Fresh off the Boat and Cristela were ABC freshman sitcoms that featured a diverse family.
In the end, two survived the cut. Cristela was cancelled.
black-ish is still strong despite a slight drop in ratings. Mostly due to the Fox juggernaut Empire hitting the 9pm spot. Modern Family and black-ish had strong lead ins before Empire took to the scene.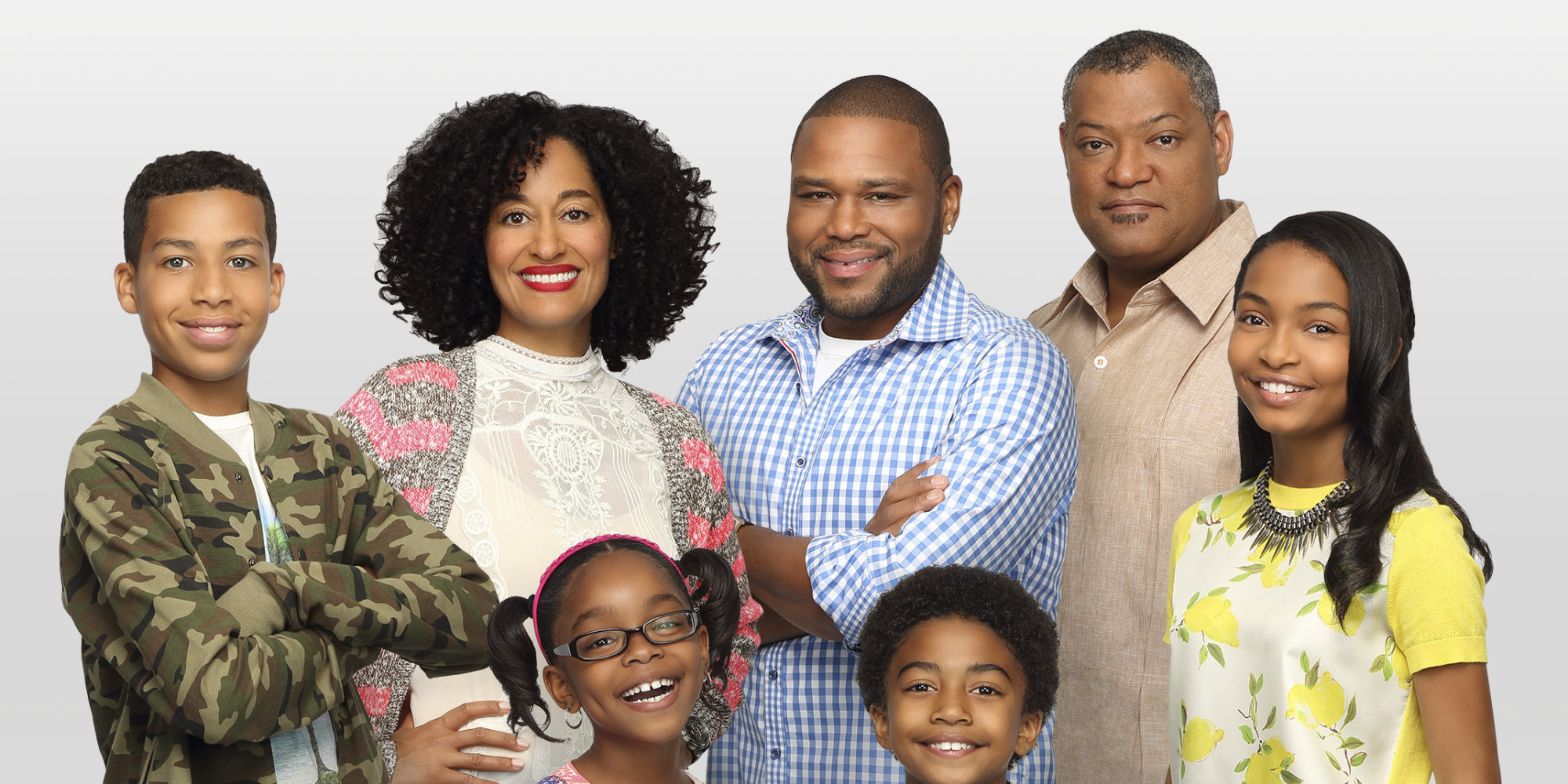 The cast of black-ish, a hit comedy on ABC.
In this episode, it certainly pokes fun at the Republican Party and Black conservatives. Even a jab at that cable news channel that scares White folks.
It also gives you an idea of Black voters and their support of the Democratic Party. The Republican Party still has trouble cracking over 20% of the vote. The party is struggling to pull in Black and Hispanic voters.
Stallmigos Ted Cruz (R-TX), Marco Rubio (R-FL) and Benjamin Carson are non-White candidates.
Louisiana governor Bobby Jindal may declare his intentions. Another non-White candidate.
Carly Fiorina is a woman. A woman who is running besides Hillary Clinton.
But yet, they're not even appealing to Black voters.
In the words of black-ish:
Republicans! We Just Don't Do That!
Reason you may ask!
The Republican Party comes off as condescending assholes. They don't understand the struggle. Even though many Black Americans are struggling with jobs, education and a sense of pride, the Black community continues to put their trust in the Democratic Party. The Democrats believe in the middle class, fairness and a leg up. They encourage hard work for equal pay and time off.
Many believe that the rich should pay a little more in taxes because it's the driving factor to why the middle class is shrinking. That's probably why Obama mentioned this during his Georgetown University speech.
Dre and Bow meet Junior's girlfriend's parents. They find out they're Black Republicans.
Republicans can say that Obama hasn't done anything for Black America. They are right. I mean he's got the My Brother's Keeper policy and it's hardly being mentioned by the junk food media.
He's proposed many ideas that would certainly help the middle class. The minimum wage, fair labor practices, banning non-gender/sexuality/criminal history hiring policies and an infrastructure bill were on the docket.
This stuff is stalled with a Republican congress. They're too busy trying to ban late term abortion and allowing a Canadian conglomerate to build a pipeline through the Midwest.
Republicans will say Obama's doing too much for Black America whenever he speaks on issues facing Black America. And for the record, it's been going on for over 50 years, it doesn't seem like it's going to change in the seven years of Obama's presidency nor in the years to come.
The first thing that comes out of the mouth of a Republican is the past. They can't admit that the Democratic Party changed its ways. The political party nominated twice the first Black candidate for president.
Second, many successful and failed Democratic nominees pull over 90% of the Black vote.
Republicans make race an issue now that Barack Obama wanted to run. They believe that passing restrictive voting measures may prevent those from voting on race, gender, and political affiliations.
They believe that Blacks are committing voter fraud and the such.
Yeah, Blacks are proud that we got the first and we're not ashamed to vote for Obama.
Republicans offer nothing of interest to the Black community.
In the minds of most Republicans and conservatives, they see Black people as criminals, lazy, immoral and believe race is over in America. Conservatives expects us to owe them for 159 years of their past Republican policies. Note the Republicans of yesterday are the Democrats today. The Democrats of yesterday are the Republicans now.
The Republican Party is like cocaine. It's 90% WHITE 10% EVERYTHING else.
This episode, Elephant in the Room is dealing with Dre (Andre) and (Rainbow) Bow's oldest son Junior joining the Young Republicans club. This revelation shocks the family.
Junior joins a political party club because of his views on issues and he's trying to win affection from a hot girl who is a member. Dre and Bow meet Junior's new girl's family. And things gone terribly wrong.
Bumper Robinson plays a Black Republican father.
In a separate segment, oldest daughter Zoey gets a pair of glasses. And her younger siblings Jack and Diane hate the fact that she's getting more attention for wearing them.
It also features a clip of Real Time with Bill Maher.
The comedy series will rile up conservatives. Because of the liberal views of the characters and it certainly mocks Republicans notably Benjamin Carson, the only Black candidate so far running in the clown car.
The cast of black-ish was there for the White House Corespondents Dinner.