The nice guy who went on a murderous rampage at Florida State University.
Earlier this morning Florida authorities and the FBI are probing into a campus shooting overnight at the Florida State University.
Myron May went on a rampage at the campus injuring four before the law put the slug in him. He would be killed after a ten minute rampage. This extremist was given the opportunities most never gotten. A master's degree, a law degree and an alumni status. Not too many have an opportunity to achieve the dream through the American educational system.
May, a graduate of FSU in 2005 went into the library and let rounds. Four were injured critically.
He don't know what his motive was for going into
May left some clues to his motive in a journal. Obviously he had mental issues and a
fear of something
. May has mental illness. He had ties to my community of Dayton, Ohio.
In Dayton had a rocky childhood. He struggled with depression. He may of have bipolar disorder.
We don't know but I can guess he was probably on the verge of being targeted for something.
Officers from the Florida State and Tallahassee police departments responded within three to five minutes of the first reports of gunfire, according to Mayor-elect Andrew Gillum.
Once there, they found the shooter outside Strozier Library and asked him to drop his handgun.
"The suspect did not comply with the commands, and actually shot at one of the officers," Tallahassee police spokesman David Northway said. "They returned fire, and the subject was killed."
A student's college book saved his life. The bullet ricocheted into it.
He graduated from Texas Tech University's law school in 2009, and practiced law in both Texas and New Mexico, according to Tallahassee Police Chief Michael DeLeo. May moved back into the area a few weeks ago.
The school canceled all classes and exams Thursday in the wake of the shooting, offering counseling services to those directly and indirectly affected.
Meanwhile, investigators are surveying the scene and interviewing witnesses -- trying to determine exactly what happened and for what reason. DeLeo, the police chief, hedged when asked whether May had fired at officers, saying investigators still have more witnesses to interview. He said is appears none of the victims were targeted for any specific reason.
"Mr. May had a written journal and videos where he expressed fears of being targeted and that he wanted to bring attention to this issue of targeting," DeLeo told reporters. "A preliminary review of these documents and videos demonstrate that Mr. May was in a state of crisis."
Those who tried to protect themselves thought rationally. The knew how to handle an active shooter.
They would barricade themselves with books, tables and locking doors. They were trying their best to not be seen and fight if cornered.
May's impact could shape how lawmakers are passing stupid conceal carry laws. They want people to actively carry firearms while on college. A great idea until the bad shooter gets you first.
Again a mass shooter doesn't care who he hits. The mass shooter doesn't care who is hit. In the mass shooter's mind, as long as the shooter sees a window of opportunity to aim at a target, the shooter is going for it.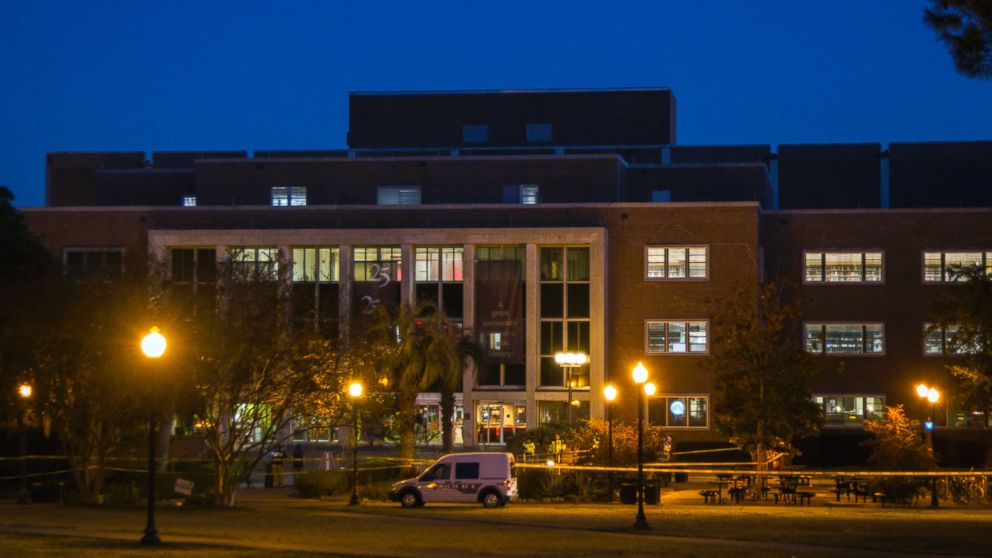 FSU campus was on lockdown.
The nice guy is the most dangerous individual with a gun. They say that good guys carry guns. The nice guy as it's put, are doormats who felt the world owed him for an unpaid due. The ones who are spurn by women, jobs, family and usually has trouble trying to find friends. They are actively ridiculed by tormentors who target them over perceptions of being poor, gay or having alleged active illness. These people have family members or close associates who own firearms. The nice guy gets the opportunity to take the firearm from the person without their knowledge. The nice guy will obtain firearms from dealers or retail stores. With lax laws, a firearm could be in the hands within days.
The impact of a mass shooter is devastating. Lives are lost or forever changed by injury.
Damn shame that the nice guys are likely the ones to kill.
We here at Journal de la Reyna send our condolences to those who were lost in this senseless tragedy