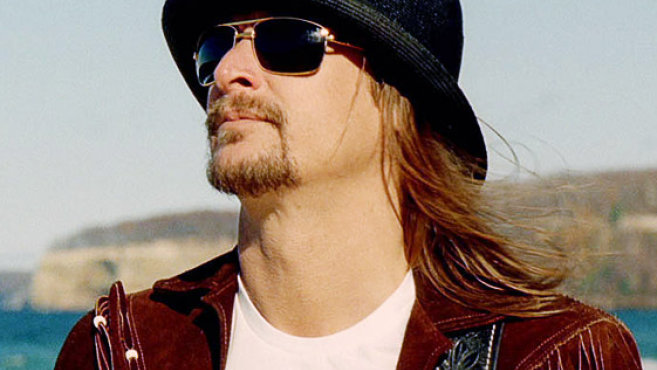 Asshole rocker goes after Colin Kaepernick and his supporters.
Looks like Colin Kaepernick of the San Francisco 49ers isn't alone in his protest. Many others soon followed and its getting major attention from the junk food media. Some of the conservative agitators are not pleased with Kaepernick and want him to be punished.
It's riled up Kid Rock, the former rapper turned rebel rock star. He's performing in a concert and had called out Kaepernick in three words.
"FUCK COLIN KAEPERNICK!" It was said at the Fenway Park in Boston.
Expect more of this nonsense from the guy who flies the flag of the losing side. A guy who was born Detroit back pretends to be Alabama. Kid Rock, an entertainer who supports Donald Trump and the ignorance that follows.
He was performing his song "Born Free" when he broke out of song to go after the NFL star.
While many came out in support of Kaepernick, many others were trashing on him and those who support him.
Fashion model Kate Upton slammed the NFL for allowing this to happen.
He's not stopping and it's sparked a movement.
"Sitting or kneeling down during the national anthem is a disgrace to those people who have served and currently serve our country", said Upton on social media. "Sitting down during the national anthem on September 11th is even more horrific."
Kaepernick dismisses the criticism and vows more to come.
"I am not going to stand up to show pride in a flag for a country that oppresses Black people and people of color. To me, this is bigger than football, and it would be selfish on my part to look the other way. There are bodies in the street and people getting paid leave and getting away with murder."
I support Colin Kaepernick and many others in refusing to stand for the national anthem.
Just yesterday, I was pulled over by the Dayton Police. They pulled me over for no reason. They claimed that I was going back and forth observing them doing their jobs. I took a couple of pictures of the police around a damaged vehicle. The officers claimed that their supervisor told them to pull me over. So I asked for his supervisor. He refused. The officers made some bullshit excuse to why I fit the description. They believed that I had something to do with someone who stole a vehicle and I could be the pickup. Again, I said that photography is not a crime and I have a right to film police officers doing their jobs. I am not a criminal and I refuse to give my information to any officer if you have no justifiable reason for the pull over. I've stop talking to them.
They threatened to arrest me for refusing to give my information to them for a pullover that wasn't a traffic violation.
Of course, after ten minutes of me and the officers escalating words, I asked if I was free to go! They didn't want to let me go, so I asked that "am I being detained!"
After another round of verbal escalating, I decided to clam up and not say another word. About that time, one of the officers ran my plates and flashed his light on me. I asked the other officer once again, am I free to go, and he said yes, and I decide to move on.
All the while another person was filming the encounter. I said, thanks for filming. Post that on social media.
SO I WILL NO LONGER STAND THE NATIONAL ANTHEM, EITHER! UNTIL CONGRESS PASS POLICE REFORM AND HOLD OFFICERS ACCOUNTABLE FOR THEIR ACTIONS, I WILL NOT ENDORSE THE FLAG OF A COUNTRY THAT OPPRESS PEOPLE OF COLOR!