So he had a gun. In Wisconsin, Sylville Smith was legally allowed to have a firearm. But the perception by the "All Lives Matter" crowd is that he was a no good "thug" and his death by the law was justified.
All is calm right now in Milwaukee. Governor Scott Walker has given the city the national guard in case another night of unrest occurs. The riots in Milwaukee were sparked by a police shooting of an armed Black male. The residents have long complained about police brutality and the Milwaukee sheriff appearing on television ignoring a pattern of problems within the city.
This reached a boiling point overnight. Five businesses were destroyed. An officer was injured and three agitators were arrested.
You got to start thinking that the distrust between the law and the Black Community is now at a record low. You got to understand that these aren't isolated incidents. These are public assassinations.
Black people regardless of being lawful or unlawful are being killed while in police custody.
The law isn't doing enough to catch suspects in the murder of Black people.
The Blue Wall of Silence is no different than the No Snitchin' credeo.
You got to thank the ones who point out the discrepancies in open carry laws. When that showboat David Clarke called for residents to arm themselves, I guess he meant for White folks to strap up.
Trust me, if a White person was carrying his firearm in public, he's given his respect.
If you're fleeing the law, it doesn't merit your death. It merits your arrest.
Tariq Nasheed is the man right here. I guess open carry is solely for White folks. He gets frustrated like many of us when the trolls start peeking into the social media of the victims of police shootings. He gets tired of this narrative because "he had a gun". He said that many White suspects were brought in alive without a shot being fired. Hence the Charleston terrorist.
If a White person is posing with a firearm, its his right to bare arms.
If a Black person is posing with a firearm, its because he is a thug or a criminal.
According to conservatives online and in the junk food media, the victim, Sylville Smith deserved to die. Seeing him pose with a firearm in a selfie is automatic guilt. They don't care about his life and family. They just see a Black "thug".
The 23 year old man and another man were being pulled over in Milwaukee's north side. They would flee the vehicle and the officer gave chase. According to Tom Barrett, the image shows that Sylville had a firearm on him.
Police said the semiautomatic handgun recovered at the scene was stolen in a burglary from a home in Waukesha, Wisconsin, in March 2016. The burglary victim said 500 rounds of ammunition were also taken.
Barrett told reporters the gun was loaded, according to The Associated Press.
Two polarizing figures in Milwaukee. Mayor Tom Barrett and county sheriff David Clarke, Jr.
"This stop took place because two officers … saw suspicious activity," Barrett said. "There were 23 rounds in that gun that that officer was staring at. I want to make sure we don't lose any police officers in this community, either."
Sylville was a victim of a gun shooting. He survived a shooting where he took six to the body. Maybe he had a reason to have a firearm on him.
The law said in a press release that the 23-year-old man who was fatally shot had a "lengthy arrest record."
A search of Wisconsin court records revealed several arrests, but only one misdemeanor conviction for Sylville Smith. His record also included traffic offenses. No felony convictions were found.
The misdemeanor conviction, for carrying a concealed weapon, came in July 2014. He pleaded guilty to the charge and was fined $443 and ordered to serve one day in jail.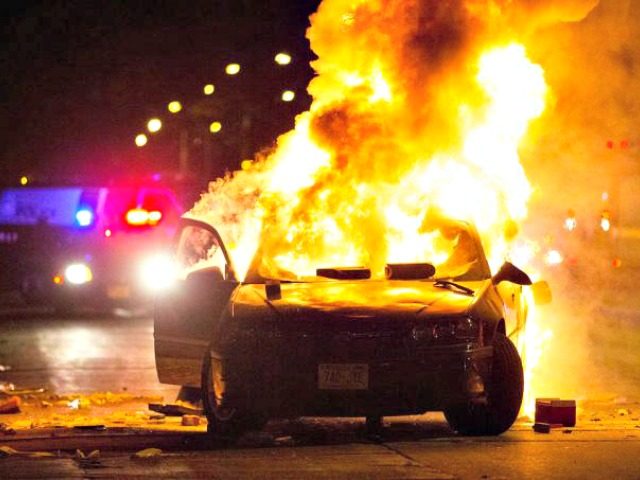 Unrest eased up today. National Guard on standby.
His record also included guilty findings on traffic offenses for speeding, operating a motor vehicle without insurance, possession of open intoxicants in a motor vehicle and operating a motor vehicle with a suspended license.
Smith was arrested in 2015 on a charge of intimidating a witness by a person charged with a felony, which is itself a felony offense. The case was dropped later that year by the prosecutor.
He was also charged with first-degree recklessly endangering safety, a felony, and misdemeanor possession of THC earlier in 2015. Those charges were dismissed by a judge based on a motion by the defense.
According to the Milwuakee Journal Sentinel, both cases stemmed from a February 2015 shooting in which he was a suspect.
Smith was accused of calling his girlfriend from jail to tell her to call the victim in the shooting case to get him to fill out a sworn affidavit saying Smith didn't commit the crime, according to court documents obtained by the Journal Sentinel.
The victim recanted his identification of Smith and the case was dropped after the victim did not show up to court and was uncooperative, the newspaper reports.
In 2013, Smith was charged with retail theft, but that case as also dropped by the prosecutor.
And to make this even more interesting, they say that the cop who shot Sylville is Black. They specifically point this out for the reasons to make this not a "White and Black" issue.
So they now want to justify the shooting by saying the Black cop shot the Black thug.
Once again, we're seeing this happen time and time again. A police shooting of a lawful, unlawful or unarmed Black person. The name of the victim is released. The conservative agitators and trolls hop online to complain about how this person's life doesn't matter.
GUN VIOLENCE IS THE NUMBER ONE ISSUE IN THE UNITED STATES.
While this was going on, a Muslim imam and his friend was gunned down.
A Georgia cop was killed. A New Mexico cop was killed by two suspects from Ohio who may have ties to the Ohio mass shooting.