NYPD is about to put a detective in the cannon and fire him out.
There's a report that a police detective with the NYPD held a racial bias on social media. He was involved in the shooting of a suspect that he claimed fired on him during an arrest.
This detective also was involved in an accident that injured a pregnant woman.
Gregory Gordon is in the freezer after social media outed his postings. He complained about Bill de Blasio's leadership as mayor of New York City. He decides to throw shade at his wife Chirlane.
Chirlane is African American and openly bisexual. She is the wife of de Blasio. They have two children together. She is active in the community and works with troubled youth.
To this cop, she is a crackhead whore. For those complaining about police brutality, he says that they should give over it. Slavery has ended. Quit bitching about the world owing Black people. On social media he said that the mayor's wife is a "crackhead addict," telling blacks to get over slavery and condemning NYPD commissioner Bill Bratton for rejecting Republican nominee Donald Trump's request to speak at a precinct.
"If this is true, Bratts can take our medals and shove them up his A$$", Gordon wrote on social media.
Marie Kiell, was pregnant when her sedan was broadsided by Gordon in March 2007. He was under the influence of alcohol. He got off after his fellow cops covered up for him. He was then a rookie-cop.
There's also a video of Gordon in uniform getting his freak on. He was grinding on a Black performer at the West Indian Day Parade in 2011.
See below.
Now this behavior has him under the radar by the city's ethics and criminal board.
"He doesn't even if we lived, or if my child lived," Kiell said.
On Sunday, this news brought back bad memories of the incident for the woman.
Pictured with controversial police union leader Patrick Lynch.
Michael Walker also has a memory of Gordon. Walker who was being accused of being in the act of an armed robbery was shot in 2013.
Walker was shot in the chest after he pointed his firearm at the cops. Walker's gun was found near him. The NYPD said that the shooting was "justified".
Walker was shot in the back. The judge in Walker's criminal indictment found no evidence of him pointing a gun at the law. Walker is suing the NYPD for excessive force.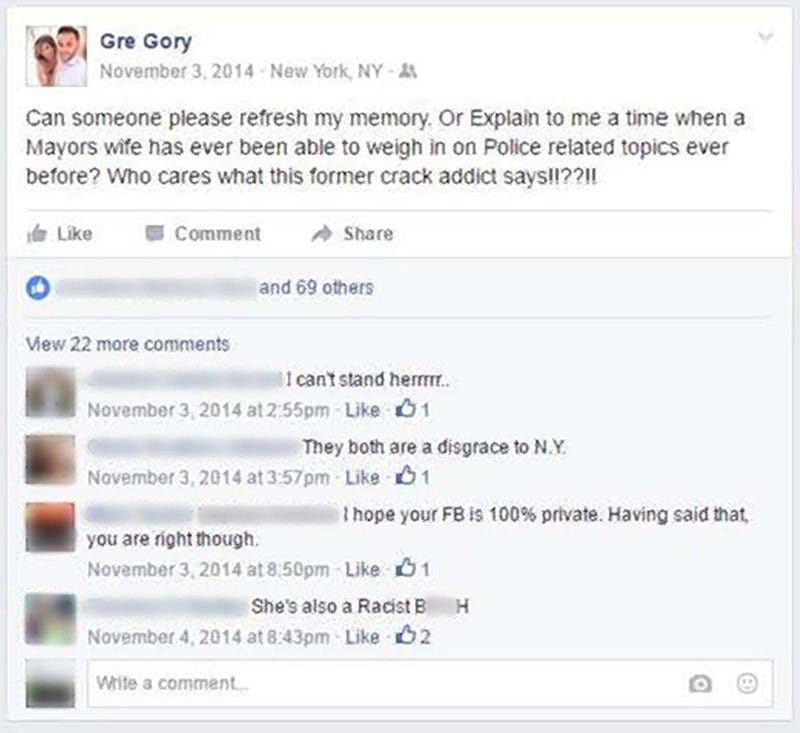 Social media outed NYPD officer.
Bratton got word of the complaints and the controversy involving Gordon.
He was none too happy about them. He said the New York Daily News, "I understand one of his Facebook entries was that he was very desirous in returning his various medals and nominations to me, so I am basically going to encourage that he forthwith return all those medals and citations. We will ensure that they are removed from proper records. If he feels so dishonored as a member of the New York City Police department, we will help him continue to make a fool of himself".
Most of these incidents are happening in Staten Island. The fifth borough is more conservative than Manhattan, Queens, Brooklyn and The Bronx. This area became a center of controversy in the death of Eric Garner. He died of a heart attack after plain clothes officers placed him a stranglehold. The officer who did that move didn't get indicted in his death.
His death sparked a massive protests. It also led to two officers being killed by a deranged terrorist.
Also Akai Gurley and James Blake were in the news as well. Gurley was killed after the officer fired his service weapon through a dark hallway. The bullet hit Gurley. He was unarmed. The officer was convicted of the murder but the charges were reduced and he was given in-house.
With Bill Bratton on his way out, maybe the New York Police Department could hire a commissioner willing to take on the corrupt lawmen within its ranks. Maybe the new commissioner will expose police union leader Patrick Lynch and his corruption.