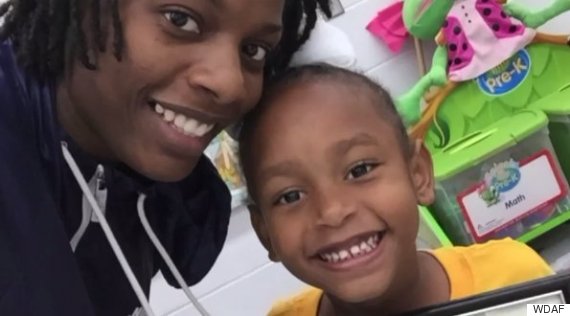 A brave mom who posted an innocent photo of her child on social media got hit with death threats from a cop who runs a beat in suburban Kansas City.
If cops don't get rid of the problems, this cycle will continue. The Blue Wall of Silence is equal to the NO SNITCHIN' philosophy where a person won't tell the law about a criminal act. Even criminal acts within the police department are not often reported.
It's usually the old saying, "You should trust the cops!"
That was thrown out the window today.
A suburban Kansas City cop was fired out the cannon after he went to a Texas mom's social media page to word vomit his frustrations with #BlackLivesMatter and President Barack Obama.
Rodney Wilson has the right to appeal his cannon firing through his police union. But the backlash may eventually have him banned in Kansas. It may have him go to another department.
This officer won't have a job in Overland Park.
Wilson was a one year officer who decided to see how people are reacting to the fatal mass shooting of five Dallas cops by a terrorist. The terrorist was motivated by the shootings of Philando Castile and Alton Sterling. The terrorist believes that Whites and the junk food media are out to make Black Americans targets.
The mom LaNaydra Williams was served with a racially offensive posting on Facebook.
"We'll see how much her life matters soon... better be careful leaving your info open where she can be found :) hold her close tonight, it'll be the last time."
As a mother, she was surprised that an innocent picture of her child would be a threat on her life.
"For this guy to just come out of nowhere, just being disrespectful. How can you be an officer? How. How? It's unacceptable. For anyone but especially for a police officer. Cops like this don't value our lives and have the audacity to publicly comment on my child's picture," said LaNaydra Williams.
The chief of Overland Park Police Francis Donchez, Jr. said that this behavior is unacceptable and he personally apologized to LaNaydra and her daughter India, by which Wilson was singling out.
LaNaydra says that this action caused by Wilson makes the case that Blacks are coming under attack by the badge. "I'll just say he was one bad cop, Not all of them are like that. I don't think [my daughter] thinks they're all like that either way. She loves the police."
By the way, the ladies of The View and many others are slamming Rudy Giuliani for making the condescending notion that "Black parents never tell their children on how to respect the police."
What got him in trouble was this vile posting.
He went out his way to say #BlackLivesMatter is racist.
You see people who are Black, White, Hispanic, Muslim, immigrant and victims of police brutality speak out against injustices. Often conservatives dismiss their concerns.
They conclude that #BlackLivesMatter is responsible for the deaths of cops, Black victims of gun violence and turmoils in the country.
They often blame President Barack Obama for inciting violence against cops.
They claim that liberals hate the law and whatever else they vomit in the comment section.
Conservatives don't respect the law enforcement either.
The Republican Party is trying to strip them of their bargaining rights. Republican police chiefs and unions leaders rack up millions of dollars to take luxury trips and soapbox for approval of conservative agitators.
The Republicans won't pass a simple background check law to keep firearms out the hands of the criminally insane. It gives the law more time spent trying to stop a mass shooter.
The junk food media constantly brings up the unarmed Black suspect's criminal history to say it's a justifiable killing.
All off the backs of the hard working men and women of law enforcement.
World News Today wishes LaNaydra Williams and her daughter well on their journey. The freedom of speech comes with a price. Your offensive statements could have you in deep trouble with your job or the law. That's why they created the websites
HelloRacist
and
RacistGettingFired
.