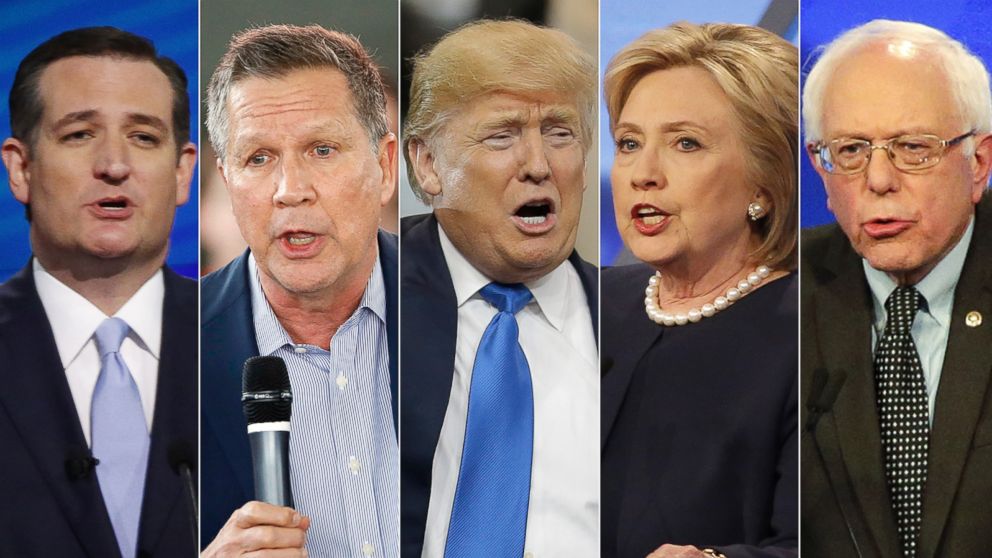 The median age of the candidates is 64 years old. With the exception of Ted Cruz and Bernie Sanders, most of the candidates running are in their 60s. Ted Cruz is 45. John Kasich is 63. Donald Trump is 69. Hillary Clinton is 69. Bernie Sanders is 74.
No love for them.
Republicans and Democrats aren't inspired to vote the candidates. They all pretty much suck and it's disappointing to all Americans that each candidate has flaws.
None of them aren't catching the fire that Barack Obama lit in the 2008 and 2012 elections. Don't listen to the nonsense about Donald Trump's rallies being huge. It's just not like Obama's.
Trump's negatives in polls are a driving force to Republican operatives plotting to disrupt his coronation.
We're in the later stages of a primary. The Republican and Democratic primaries are still ongoing and it seems like Donald Trump, Ted Cruz, John Kasich, Hillary Clinton and Bernie Sanders are still in this.
Americans are tired of politics and the divisive nonsense of the politicos.
If allowed to run a third term, Obama would clobber the Republican nominee.
The conservative Craigslist says that Republicans aren't happy about the delegate progress as well as their chances of stopping a potential Hillary Clinton nomination.
Gallup Polling reports that thirty percent of Americans say the presidential election process is working as it should, down from 37% in January. The decline is driven mainly by Republicans' increasingly cynical views as the campaign season has progressed. The percentage of Republicans and Republican-leaning independents who say the election process is working has fallen from 46% to 30% since January. Democrats' and Democratic leaners' views haven't changed.
If you ask me, if the 22nd Amendment wasn't installed in the U.S. Constitution, President Barack Obama would win reelection handily over the Republican nominee.
Sometimes I rather have Obama run a third term instead of just giving it up after 8 years of a contentious Republican obstruction.
Republicans are destroying each other and the country in their quest to stop Obama's policies. It's an unfortunate circumstance that if a Republican does win the presidency, Democrats will do the same shit only worse.
Sometimes, it's better to not vote at all. But if you don't vote, you may losing all the accomplishments that Americans fought for.
World News Today send our condolences to Gary Shandling, the famed comedian and entertainer had passed away in Los Angeles of a major heart attack on Wednesday. Rest in peace to one of America's greatest comedian legends. He died at age 66.