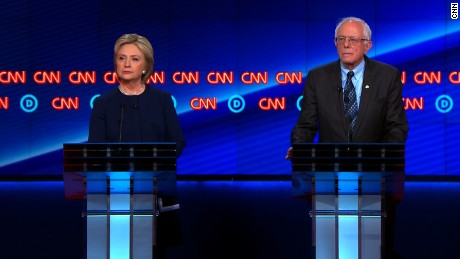 The Dems have another debate in the economically struggling city of Flint.
Flint, Michigan was the place for the umpteenth debate. The Democratic candidates have an opportunity to duke it out in the country's most economic deprived cities.
Former Secretary of State Hillary Clinton and Sen. Bernie Sanders (I-VT) are debating tonight on CNN.
Flint became one of the nation's most talked about communities. It's become a major focus for the presidential candidates. President Barack Obama has struggled to get a stubborn Republican-controlled U.S. Congress to pass infrastructure bills.
Republicans have blocked just about everything that the president wants. Especially when it comes to the potential showdown over a Supreme Court pick.
I can imagine that the death of Nancy Reagan, climate change, the Supreme Court, Donald Trump, Ted Cruz, Barack Obama's policies and the lack of turnout being discussed tonight.
This will be the first opportunity for the candidates to go at it since Saturday's primary and caucus results.
Clinton managed to win Louisiana. Sanders won Nebraska, Kansas and Maine this weekend.
Sen. Ted Cruz (R-TX) and Donald Trump managed to win some states. The candidates are pressuring for the lower tier candidates to get the hell out the race. Cruz won Kansas and Maine. Trump won Louisiana and Kentucky.
Also to add to the belt, Marco Rubio, the Republican senator from Florida won the U.S. territory of Puerto Rico. It won't make much of a difference knowing that Florida and Ohio are the bigger prizes for the struggling presidential candidate.
Donald Trump and Ted Cruz both had an opportunity to do victory laps on GOP Sundays.
Also the perennial loser Mitt Romney and that old fart Rush Limbaugh had an opportunity to bitch and bemoan about Republicans and Democrats alike.
Former California governor and actor Arnold Schwarzenegger endorsed John Kasich in Columbus, Ohio today. The actor who is a moderate Republican came out for the struggling Ohio governor. He has to win this state in order to stay in the race.
Republicans (probably with the exception of Donald Trump) have barely mentioned Flint in their debate.
Flint is an example of the failed leadership in both parties. Barack Obama isn't completely responsible for the failures of government. House Speaker Paul Ryan (R-WI) and Majority Leader Mithc McConnell (R-KY) are responsible for some of the crap going on in Washington.