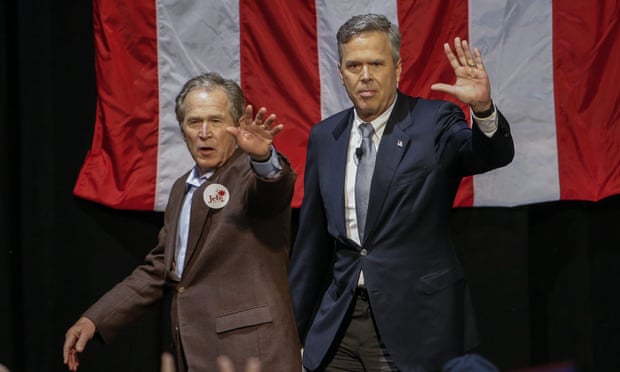 Happy trails.
It looks like the Bush legacy ends in South Carolina. John Ellis Bush, the son and brother of two living presidents isn't going to have his moment in the sun.
The former front runner at one point has finally decided the end is now. The former Florida governor suspends his campaign after a disappointing finish in the South Carolina primary.
At age, 63, Bush had entered the race as a presumed favorite for the Republican nomination last summer with a big war chest. He had nearly $130 million and was shattering records in fundraising.
His fall began when Donald Trump got into the race. He was labeled establishment and he wore that with a pride. That proved to be noose around his neck. His famous name spelled disaster. Many Republicans weren't keen to the Bush legacy. Given the political back scratching and political insiders who wanted Bush to be the nominee.
Sen. Lindsey Graham (R-SC), a failed presidential candidate was one of the major endorsers of the Bush campaign. Bush even brought out the big guns. Former first ladies Barbara and Laura Bush and brother George W. Bush came out in full swing for the embattled politico.
Bush saw his stock tumble in the New Hampshire primary. He thought he could score a huge upset against Ted Cruz and Marco Rubio. It turned out to be a disaster. So he was hoping his brother's star power could help score a second or third finish in the South Carolina primary. A strong victory would have given him some life. Nope.
Bush's biggest blow came when South Carolina governor Nikki Haley endorsed nemesis Marco Rubio over him. Bush felt that was disrespectful that she would pick a relatively unaccomplished politician over him.
Trump also hammered Bush on his brother's failures with 9/11 and the two wars. That was sacred ground for Republicans not to blame Bush for failure. Trump kicked that over with no remorse. He said that Bush is "low energy" and that stuck to him like glue.
Trump's real victory is knocking Bush out.
Now the insurgency has truly taken over the Republican Party.
If we elect a man who devotes his rhetoric to the ugliest elements of America, we're going to have a civil war. Certainly Democrats and Republicans better take note. Trump has tapped into the conservative movement. His rhetoric has driven White extremism to unprecedented highs.
I would have rather had Bush or John Kasich as the president if given the choice for a Republican nominee.
With Rick Perry, Scott Walker, Chris Christie and Jeb Bush out the race, there's no possibility of a candidate who can bring the party together. Rubio is their last hope. If the Florida senator fails at winning any more elections, it will upset the balance.
Republicans are now the party of the Angry White Man! And it's unfortunate, they're proud of that!