Tyrese announced T-G-T broke up. Tyrese and Tank kicked Ginuwine to the curb.
Tyrese, Ginuwine and Tank formed the supergroup T-G-T in 2007. The three were close friends and Tyrese was best man at Ginuwine's wedding, but TGT represented their first collaboration.
The Three Kings album was released a couple of years ago.
The group released their album on Atlantic Records. Things got rocky from the start. It's the fault of a guy who once told women to ride his "Pony".
T-G-T officially broke up. Tyrese took to social media to announce the breakup.
I believe that Ginuwine was responsible for the group having broken up.
There's a video on YouTube showing Tyrese and Tank visibly angry at Ginuwine. Ginuwine was either too drunk or high when he performed their single "I Need" on live television.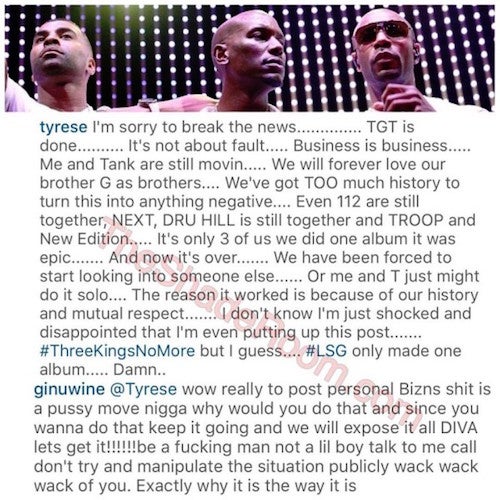 Tyrese says Ginuwine's antics broke the group up. Ginuwine blasted Tyrese and Tank for being drama queens.
Ginuwine apparently was going bonkers. He was married to Solé since 2003. That 12 year marriage came to an end when she filed for divorce this year. They have two children. She has two from a previous relationship. Ginuwine has four other children before and after his marriage to Solé.
Tyrese broke the news on social media, saying it wasn't anyone's fault ... but he and Tank were moving on without Ginuwine.
That announcement didn't sit well with Ginuwine, who immediately blasted Tyrese for airing their dirty laundry. He dismissed it as a "p***y move" from a diva. His advice to Tyrese -- "Call me don't try and manipulate the situation publicly wack wack wack of you."