A southeastern Missouri town becomes national news after a majority of the city quits after they elected a Black woman as their mayor.
Out you go. About 80% of the city of Parma, Missouri's police force quit. They claim it's not the new mayor but it's their safety.
Tyrus Byrd, a former city clerk, was officially sworn in as mayor on Tuesday after beating incumbent Randall Ramsey. Ramsey had served as mayor of Parma for 37 years under two terms.
They claim their resignation comes in regards to "safety" and not the fact of race.
The city manager, the attorney, water sanitation operator joined the cops in submitting their resignation.
The racial makeup of the city was 67.46% White, 29.45% Black or African American, 0.14% Native American, 0.56% Native Hawaiian or Pacific Islander, 1.12% from other races, and 1.26% from two or more races. Hispanic or Latino of any race were 2.81% of the population.
According to the city mayor Tyrus Byrd, she is moving forward. After the cameras stop rolling, I bet you that she's probably pissed that this event happened.
The mayor is a Black woman.
Some say they're not worried about their safety and it wasn't necessary to have that many on staff for a city the size of Parma.
Some say they're relieved about the situation and that Parma doesn't have that many problems in town to require so many officers.
"I think it was pretty dirty the way they all quit without giving her a chance, but I don't think they hurt the town with quitting because who needs six police for 740 people?" said Martha Miller of Parma.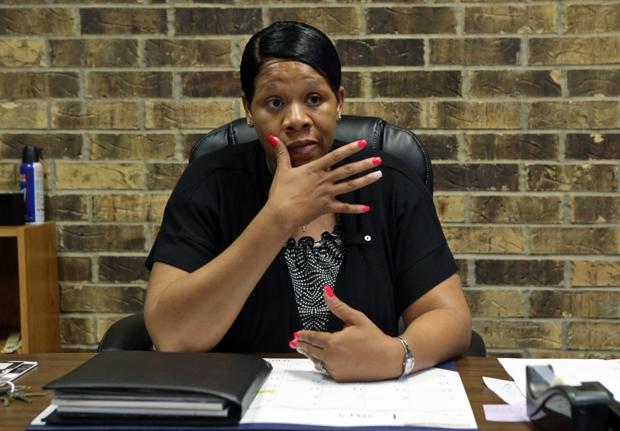 Tyrus Byrd got handed a controversy on her first day.
As for why the police and two city employees resigned, Mayor Tyrus Byrd is still trying to figure that out.
The resignation letter could not be found, according to Mayor Byrd.
"They say we have six cops on the payroll. How can we have six cops and we go days without cops patrolling and we have these recent break-ins?" asked one Parma resident.
"We needed somebody young and energetic to help our town and that is what we need," said one Parma resident.
She said she is receiving outside help from other communities and folks are reaching out to help their town rebound.
Some residents agree the city needs it.
"Just ready to get the town back to the way it was, back to the flow of business," said another Parma resident.
The mayor said her experience as city clerk years ago will help.
As for when the vacant positions will be filled, it's unclear at this time.