Vladimir Putin is the current president of the Russian Federation. He was reelected to serve another term as president. In Russia, there's no term limits to being a president.
He and President Barack Obama aren't the best of friends right now.
The NSA leaker Edward Snowden is in the crosshairs of both leaders. This man has became the world's most wanted man. The United States wants this guy capture now. But since they're talk about the NSA spying on Russia, North Korea, Israel, the European Union and Iran, many countries are hesitant in turning him over.
The issue with Snowden began when it was reported to turdporter Glenn Greenwald about the United States National Security Agency's looking into the phone records of Verizon. The NSA is trying to look into the records of Americans and foreign nationals plotting attacks on the homeland.
Currently Snowden is in Russia. Or in Cuba. Or whatever the media claims he's in.
Snowden has spooked up the kookspiracists who believe that big bad Obama is trying to tap the phones.
Who gives a flying whatever to this guy and those who believe the "gubmint" is out to get them.
If the "gubmint" is out to get you, why aren't you dead yet?
Where's the black helicopters and men in black?
RT (Russia Today) reports that Snowden is seeking asylum in a nation that won't ship his ass back to the United States.
Ecuador President Rafael Correa says Russia will decide the destination of former US spy agency contractor Edward Snowden, currently believed to be holed up at Moscow's Sheremetyevo Airport. seeking safe passage to Ecuador after leaving Hong Kong.
"At this moment, the solution of Snowden's destination is in the hands of Russian authorities," Correa said in an interview with the private Oromar channel, according to AFP.
"We have not sought out this situation. Snowden is in contact with [WikiLeaks founder Julian] Assange, who recommended he seek asylum in Ecuador," Correa stated.
Meanwhile, President Putin's Press Secretary Dmitry Peskov said on Sunday that Snowden's fate is not on the Kremlin's agenda.
He said that Vladimir Putin had already voiced his take on the issue on Tuesday, when he confirmed that Snowden was in Moscow indeed, as a transit passenger, and rejected the US demands for the leaker's extradition.
"We can only extradite foreign citizens to such countries with which we have signed the appropriate international agreements on criminal extradition," Putin said, adding that as Snowden had committed no crime on Russian soil, he is free to travel at will.
"Snowden is a free person. The sooner he chooses his final destination, the better it is for him and Russia," he stated.
"On top of this," Peskov went on, "the president pointed out that he is not tackling this issue and prefers appropriate services to deal with it. Therefore, this subject matter is not on the Kremlin agenda."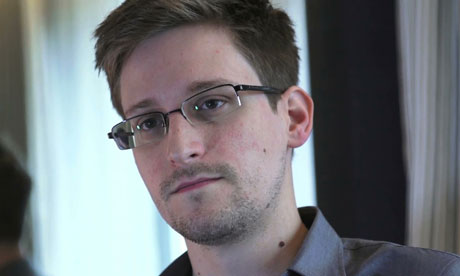 Catch me if you can!
"Given that it's not our issue, I don't know what kind of further development of the events and which legal and other aspects of the subject matter could follow. I can neither say anything, nor explain or give an appraisal," Peskov added.
Washington wants the 30-year-old Snowden, who faces espionage charges, over his leaking of details about the National Security Agency's (NSA) dragnet telephone and internet surveillance programs.
On Saturday US Vice-President Joe Biden "cordially" asked Ecuador not to grant asylum to former US spy agency contractor Edward Snowden, according to Correa. He said his country will make a decision based on sovereignty.
Biden initiated the phone call, Correa said, mentioning that Biden's good manners were in sharp contrast to "those badly behaved and confused ones in the Senate who threaten our country," and who had promised to cut off Ecuador's trade benefits in response to Snowden's asylum request.
"He communicated a very courteous request from the United States that we reject the [asylum] request," Correa recalled.
In Correa's weekly broadcast on state TV, the staunch critic of the US, said he vowed to respect Washington's opinion in evaluating Snowden's request, should the whistleblower arrive in Ecuador. However, his country cannot begin processing the request unless the National Security Agency leaker reaches Ecuador.
Correa explained that "when he [Snowden] comes to Ecuadoran soil, if in fact he ever does, and we have to process the request, the first people whose opinion we will seek is that of the United States."
"Just as we did in the Assange case with England [sic], we are going to listen to everyone but the decision would be ours as a sovereign nation," he added, according to AFP.