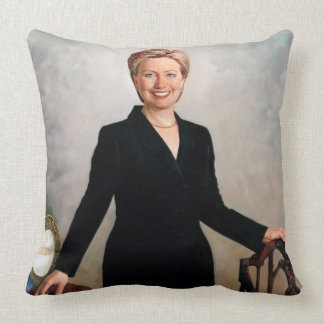 Conservatives whine about Hillary Clinton using a pillow. The issue is a part of the Clinton health conspiracy.
Now conservatives are crying about a damn pillow position.
CNN's Reliable Sources host Brian Stelter is calling out The Drudge Report and Sean "Softball" Hannity for advocating the kookspiracy theories about Democratic nominee Hillary Clinton's health.
What circulated around the internet was pictures of Clinton sitting with a pillow on her back.
And now the lunatics are saying that her health is declining.
The Clinton campaign said that that Donald Trump and his surrogates like Softball Hannity and Drudge are kookspiracy peddlers.
Remember Trump, Softball Hannity and internet creeper Matt Drudge were pushing the birth certificate controversy. Now they're "healthers".
Clinton's official doctor, Dr. Lisa Bardack who became a focal point of the issue. Some internet website claimed that they obtained documents from Bardack saying that Clinton's health is declining.
The doctor quickly fired back saying that the information being sent out is false. She said that Clinton is fit to be the president.
Clinton's health concerns became a focus of conservative ire. They have been on this kick about her health ever since the concussion and fainting spell she had in 2012.
Conservatives claim that Clinton's health is on the decline.
Jennifer Palmieri said it best, "Donald Trump, Roger Stone, The Drudge Report and Sean Hannity are parroting lies based on fabricated documents sparked by Stone and his right wing allies. Hillary Clinton released a detailed medical record showing her to be in excellent health plus her personal tax returns since 1977, while Trump has failed to provide the public with the most basic financial information disclosed by every major candidate in the last 40 years. It's time for him to stop using shameful distractions to hide his own record."
Since the report, Softball Hannity amped up his attacks on Stelter. He called him a "pipsqueak" and said that he had his ass so far up Obama and Clinton's ass. He spent a portion of his radio show and television show going after Stelter.
Donald Trump had another interview with Softball Hannity. He host wackadoodles Newt Gingrich, Rudy Giuliani and David Clarke once again to discuss Obama, Clinton, #BlackLivesMatter, and the junk food media.