Gawker Media Group goes to Univision.
The tabloid agitator Gawker is over and out. One of the biggest media shockers this year was the major lawsuit against the agitator by a wrestler with a mainstream following.
Hulk Hogan (government name Terry Bollea) former WWE wrestler was fired out the cannon after a tape of him calling Blacks, NIGGERS was leaked to the junk food media.
Not to mention a sex tape of him having sex with the wife of Bubba The Love Sponge kind of put a damper on his longtime marriage to his wife Linda.
Hogan was out of a job and out of relationship. He even lost his bid to keep his namesake on a restaurant in Tampa. Hogan's Beach became a focal of controversy over its rules seemingly singling out Black club goers.
Now Hogan is trying to savage his career by suing Gawker. He ended up successfully sued Gawker for $169 million. The judge award the wrestler a win. And it put Gawker out of business.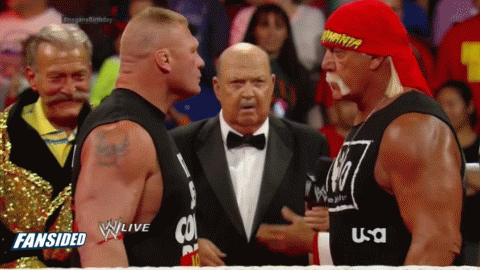 Mean Gene Okerlund, Jimmy Hart, Brock Lesnar, Hulk Hogan, Scott Hall and Kevin Nash.
For nearly a year, Gawker was running on a negative. Now it seems like it will survive but without the tabloid journalism.
Univision bought Gawker for $135 million and Nick Denton relinquished all his rights to the website and namesake.
Gawker.com was one of the websites that did not only tabloid journalism but real serious investigative journalism.
Gawker also had a feud with Donald Trump supporter Peter Thiel. This became an issue after the tabloid agitator "outed" the former eBay CEO. Thiel is an openly gay, anti-gay activist.