Trump's body man won't face charges. Corey Lewandowski (left) beats back assault charges.
The junk food media just found out that campaign manager to the Donald Trump presidential campaign will not face charges after he shoved an agitator at an event in Florida.
Corey Lewandowski managed to beat a criminal record. He wasn't charged in an assault of former Breitbart agitator Michelle Fields. This happened after Fields confronted Trump after a presser.
Fields was grabbed on by Lewandowski after she tried to touch Trump.
While the prosecutor said that even though Lewandowski did put his hands on Fields, there wasn't enough evidence to charge him with a major crime.
"Lewandowski then grabbed Fields' left arm with his right hand, causing her to turn and step back," according to the police report, describing video of the incident. "Based on the above-described investigation, probable cause exists to charge Corey Lewandowski."
At the time, the Trump campaign released a statement asserting Lewandowski's innocence.
"Mr. Lewandowski is absolutely innocent of this charge," read the statement. "He will enter a plea of not guilty and looks forward to his day in court. He is completely confident that he will be exonerated."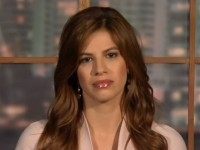 Florida state attorneys blames Michelle Fields for instigating the events.
When Lewandowski was charged on March 29, he was released with a notice to appear in court on May 4.
The Trump campaign and Lewandowski's legal team did not immediately respond to requests for comment.
Also in the news, Trump settled his feud with Megyn Kelly.
Kelly announced that she went to the Trump Tower on Sunday to speak with him. Trump spoke to that annoying conservative agitator Sean Hannity.
Hannity asked about it and Trump said that was "friendly" and the feud is over.