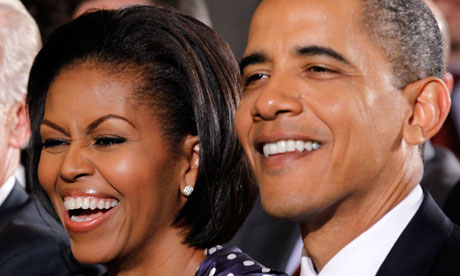 Win for the Obamas. They will do the Superbowl interview on Sunday.
In the month of January, the U.S. job market added 151,000 jobs, bringing the unemployment rate to 4.9% for the first time since February 2008 before the recession hit.
President Barack Obama has brought the economy back to the normal and yet he gets no credit from his Republican and conservative opposition. Of course, the ridiculous talking point of XX million Americans not working will once again come up in discussion.
They ignored the obvious factors to why such factors exist. They can't figure out that for ever 35 seconds there's birth and death. For every 50 seconds there's a person either getting hired, quitting their job or getting fired from a job. There's a lot of students attending full time college and high school. Some people declare their retirement. Some people were arrested for criminal acts.
It's a part of life that some conservatives fail to realize. That if 1/3 of the United States isn't working, how come the job rate is so freaking low. That means over 95% of Americans are actively working or in the search of finding jobs.
Jobs aplenty.
U.S. employment gains slowed more than expected in January as the boost to hiring from unseasonably mild weather faded, but surging wages and an unemployment rate at an eight-year low suggested the labor market recovery remains firm.
Data for November and December was revised to show 2,000 fewer jobs created than previously reported. Economists polled by Reuters had forecast employment increasing by 190,000 and the jobless rate steady at 5 percent.
Also taking the sting from the softer payrolls number, employers increased hours for workers. Manufacturing, which has been undermined by a strong dollar and weak global demand, added the most jobs since August 2013.
The sharp step-down in job gains from the fourth quarter's brisk clip largely reflected payback after the warmest temperatures in years bolstered hiring in weather-sensitive sectors like construction. January employment also lost the lift from the hiring of couriers and messengers, which was buoyed in November and December by strong online holiday sales.
But coming in the wake of an abrupt slowdown in economic growth in the fourth quarter and a sharp stock market sell-off, the closely watched employment report could add to concerns the U.S. economic outlook was deteriorating.
Federal Reserve Chair Janet Yellen has said the economy needs to create just under 100,000 jobs a month to keep up with growth in the working age population.
Against the backdrop of tightening financial market conditions, the deceleration in employment growth could further undercut the case for a Fed interest rate hike in March. The U.S. central bank raised its short-term interest rate in December for the first time in nearly a decade.