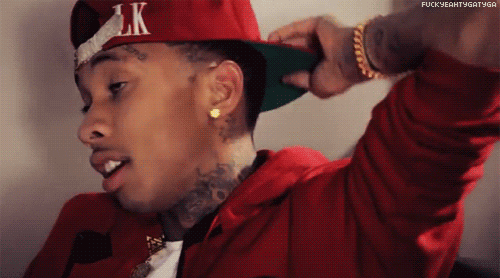 Tyga creeps out a teen model.
Compton's most dumbest rapper is once again in the spotlight. And like his buddy Chris Brown, Michael Nguyen Stevenson (aka Tyga) doesn't shy from controversy.
Tyga is once again allegedly cheating on celebriturd Kylie Jenner. Jenner, then 17 was being pursued by the Compton rapper while he was dating Blac Chyna, the mother of his son.
Gloria Allred, the famed feminist attorney represents a 14 year old model who alleged Tyga tried to make a move on her. Molly O'Malia came out to the public with a disturbing tale of a rapper and his creepy obsession with little girls.
Molly O'Malia and Gloria Allred. She tears up after coming out publicly after being threatened online.
Tyga is accused of sending many messages asking for pictures. He was asking her to do some FaceTime so he can see her face to face.
Tyga admits his sex drive is "crazy" but he denies that he's been creeping on a little girl.
He was in Mammoth Lakes with Kylie.
Kylie took him back after he was caught cheating.
Matter of fact, he was accused of cheating on Kylie with his ex-girl Blac Chyna. He sneaked Blac Chyna into his home which he shares with Kylie on occasions.
He also was accused by transgender porn actress. Mia Isabella went to B. Scott, the transgender celebrity agitator with pictures of the rapper's crown jewels.
Where them lips been?
Tyga is still on Cash Money (I think). Last year, Tyga went into a rant about how he can't work with Drake and Nicki Minaj.
Drake went right after him and destroyed his credibility. Tyga also blasted the Cash Money/Young Money label. He said they were delaying his albums and not giving him his royalties.
Bryan "Birdman" Williams kept his word on blackballing. He pulled the funds for Tyga's last album The Last Kings/The Gold Album: 18th Dynasty. Tyga asked for a loan. The album was released quietly in 2015 with executive production from Kanye West. It unfortunately flopped.
The collaboration album Fan of a Fan with Chris Brown fared better. The rapper released two mixtapes this year.
Let's take a quick poll.
Who is the most dumbest rapper?
Obviously, 2016 will be the year of the most dumbest things you'll find a rapper doing.