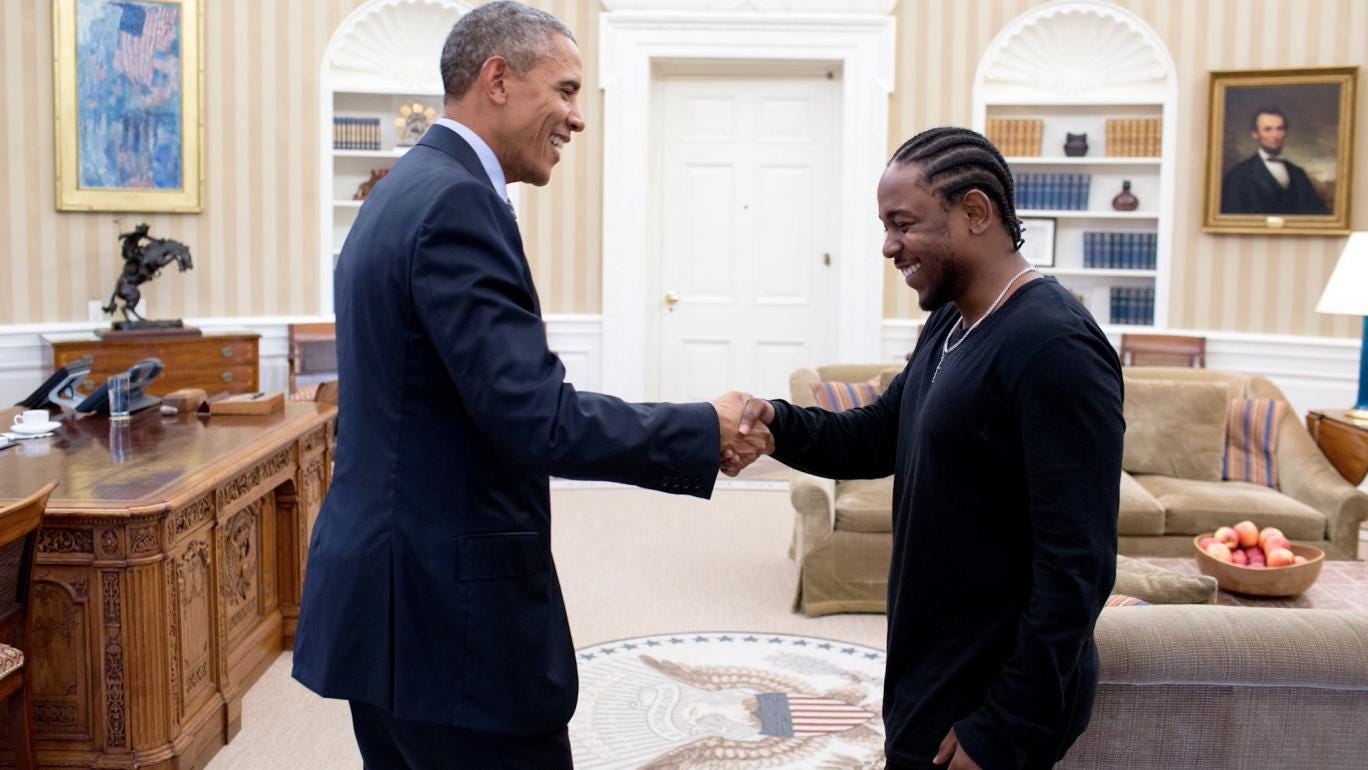 President Barack Obama address gun violence with hip-hop star Kendrick Lamar.
The 11 time Grammy nominated rapper/singer Kendrick Lamar got an opportunity to meet President Barack Obama this weekend.
The Compton rapper has been very focused on politics and hasn't endorsed any political candidate for president. He heads to the White House to discuss issues involving gun violence, Black empowerment and the president's favorite song off his platinum selling album.
If these walls could talk...!
"I look at where I'm at today and realize that most of my success is owed to the mentors that was in my life," Lamar says at the opening, playing basketball with a young kid.
Kendrick Lamar and Terry Crews "Hit The Quan" in the "These Walls" video.
"I sat down with President Barack Obama and we shared the same views. Topics concerning the inner cities, the problems, the solutions, and furthermore embracing the youth, both being aware that mentoring saves lives."
To Pimp a Butterfly album is a smash. The rapper released the album in February 2015, and it spawned the hits, "i (Love Myself)", "Alright", and "These Walls".
The president admits that he's a fan of hip-hop and he enjoyed the album. His favorite song off the album was "How Much a Dollar Cost".
Last year, Geraldo Rivera went on this rant about Kendrick Lamar being anti-White and anti-cop with his song.
"This is why I say that hip-hop has done more damage to young African-Americans than racism in recent years. This is exactly the wrong message. And then to conflate what happened in the church in Charleston, South Carolina with the tragic incidents involving excessive use of force by cops is to equate that racist killer with these cops. It's so wrong. It's so counterproductive. It gives exactly the wrong message." said the agitator.
The rapper responded back to the criticism.
"How can you take a song that's about hope and turn it into hatred?" he said. "The message, the overall message [of 'Alright'], is, 'We gon' be alright.' It's not a message of 'I want to kill people.'"
World News Today congratulates Kendrick Lamar on his success.