So much tension building around St. Louis.
CNN managed to catch a St. Louis County officer call the protesters a bunch of "fucking" animals.
Amanda Terkel of the Huffington Post reported that the Ferguson Police Department has asserted that Brown assaulted the officer, whose name has not yet been released. Eyewitnesses, however, have disputed that claim and said Brown was killed while attempting to surrender or flee.
Since then, Ferguson has been the scene of daily protests, with some looting and vandalism as well.
"Right now, the small group of people are creating a huge mess," Ferguson Mayor James Knowles (R) told KTVI-TV in St. Louis. "Contributing to the unrest that is going on is not going to help ... We're only hurting ourselves, only hurting our community, hurting our neighbors. There's nothing productive from this."
Protesters have been raising their hands and chanting, "Hands up, don't shoot." "We are Michael Brown," "No justice, no peace" and "Killer cops have got to go" have also been frequent refrains at the marches.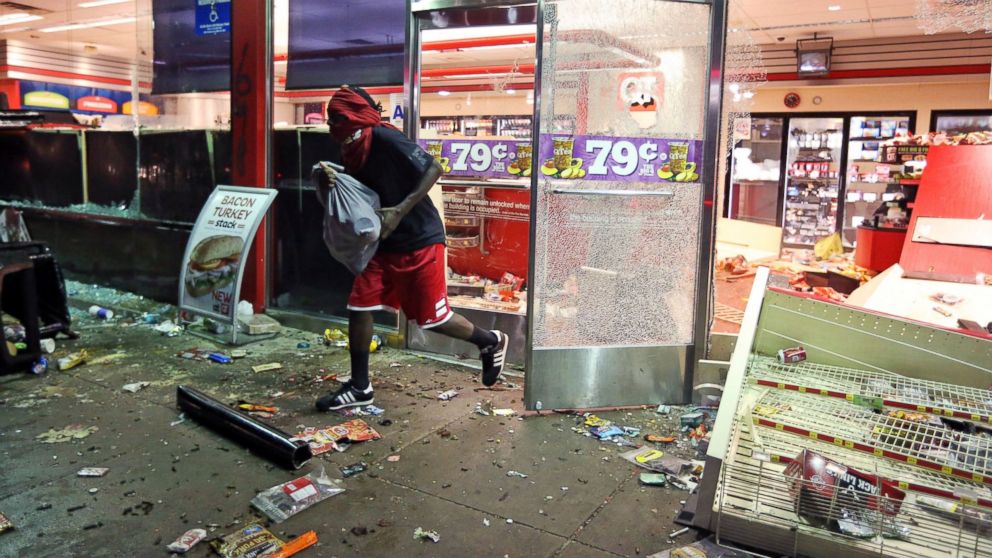 Unarmed looter. QuikTrip in St. Louis area was robbed and destroyed by angry protesters.
The community anger in Ferguson appears to have been latent for quite some time in the city, which has mostly African-American residents but very few African-American public officials. According to the Los Angeles Times, "Ferguson's police chief and mayor are white. Of the six City Council members, one is black. The local school board has six white members and one Latino. Of the 53 commissioned officers on the police force, three are black, said Ferguson Police Chief Thomas Jackson."
Blacks are also disproportionately pulled over by police in Ferguson. Whites make up about a third of Ferguson's population but accounted for just 12.7 percent of the stops by Ferguson police. Last year, African-Americans made up 93 percent of the arrests following car stops, even though whites were more likely to have contraband.
Tensions are building in the St. Louis area after a Ferguson officer opened fired on an unarmed Michael Brown, a 18 year old teen who was on his way to his grandma's house.
Rev. Perm and that annoying conservative agitator have both been hard line in this controversy. Each agitator driven themselves into the fray by taking sides on this controversy.
Obviously the racist right is worked up over the situation. They've managed to rile themselves to a frenzy watching young Black people stealing televisions and Air Jordans.