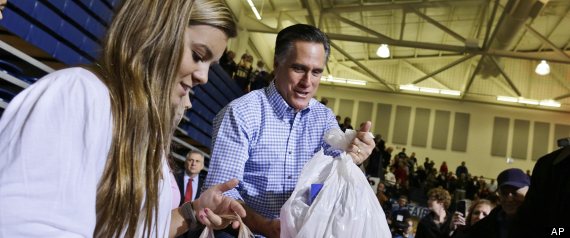 Mitt Romney bagging supplies in Dayton, Ohio.
President Barack Obama and Mitt Romney release statements in regards to the Hurricane Sandy and its aftermath this week. It arrived on Monday and landed near Atlantic City, New Jersey.
According to many sources, apparently there's
39
55 confirmed deaths and the toll will rise soon. The power grid in the east coast has over 8 million without power. Potential rises in price of fuel could occur if the nation is in desperate need for necessities.
But to the president and his Republican rival, it's campaign season regardless.
President Barack Obama canceled his campaign events to stay focused on disaster relief. Mitt Romney decides to keep campaign but under the theme of "hurricane relief" help.
The Republican nominee his vice presidential running mate, Congressman Paul Ryan (R-Wisconsin), Senator John McCain (R-Arizona) and famed race car driver Richard Petty came to Dayton, Ohio today. Nearly 2,000 people came to the event. The Republican nominee has already pushed forth the notion that "he's the grown up in the room!"
They're here in the all important swing state of Ohio. The city of Dayton, last week had President Barack Obama and Vice President Joe Biden come and now it's Mitt Romney and Congressman Paul Ryan (R-Wisocnsin) chance. They appear at the Trent Arena asking supporters to help in disaster relief by donating to the victims. Of course, chants of "seven days" and "he must go" were present and accountable.
New York City, America's largest city has suffered the wrath of a combined snow and rain storm with Hurricane Sandy barreling down on New Jersey.
The president regardless of what he does isn't going to satisfy his political foes. Already, Rush Limbaugh is chanting that the coverage of the hurricane damage is a ploy to make the president look good and give him advantage. Around the beginning of Limbaugh's show he got the buzz from The Drudge Report seething over the early voting stats showing Romney with an advantage.
The Republican nominee had urged the privatization of the Federal Emergency Management Agency (FEMA) and state government should determine where relief should be handed off to.
The Republicans are determined to defeat the president regardless of an improving economy. It's not worth pointing out that Mitt Romney called people who need federal assistance "victims".
Remember this guy told a person that it's best to call 241 for assistance.
Mitt Romney stated that he's not concerned about the poor, they have a safety net!
But wait isn't he trying to slash federal funding for disaster relief. He supports his running mate's austerity bill!
Is it another lame attempt at a photo-op for the Republican?
They've always attack the president for doing such things!
The Huffington Post tears through Romney's stunt and calls it politically opportunistic! They've reported that it's unseemly to campaign in the midst of an unfolding natural disaster, but the Romney-Ryan camp was ready this week with a solution: Don't call it campaigning.
Former Massachusetts governor Mitt Romney, the Republican presidential nominee, canceled campaign rallies on Monday and Tuesday. He instead hosted swing-state "relief" events, which included attacks on the president, a video bio of Romney and multiple photo ops in front of boxes of canned goods.
Democrats have called Romney out for pretending he had stopped campaigning. "Hold a campaign rally in a swing state today if you are going to, but don't fucking pretend it is doing anything to help storm victims," tweeted Charles Monaco, a Democratic activist.
It's unsurprising that the entire machinery has failed to come to a halt, given the short length of time campaigns and groups supporting them have to push out their final message.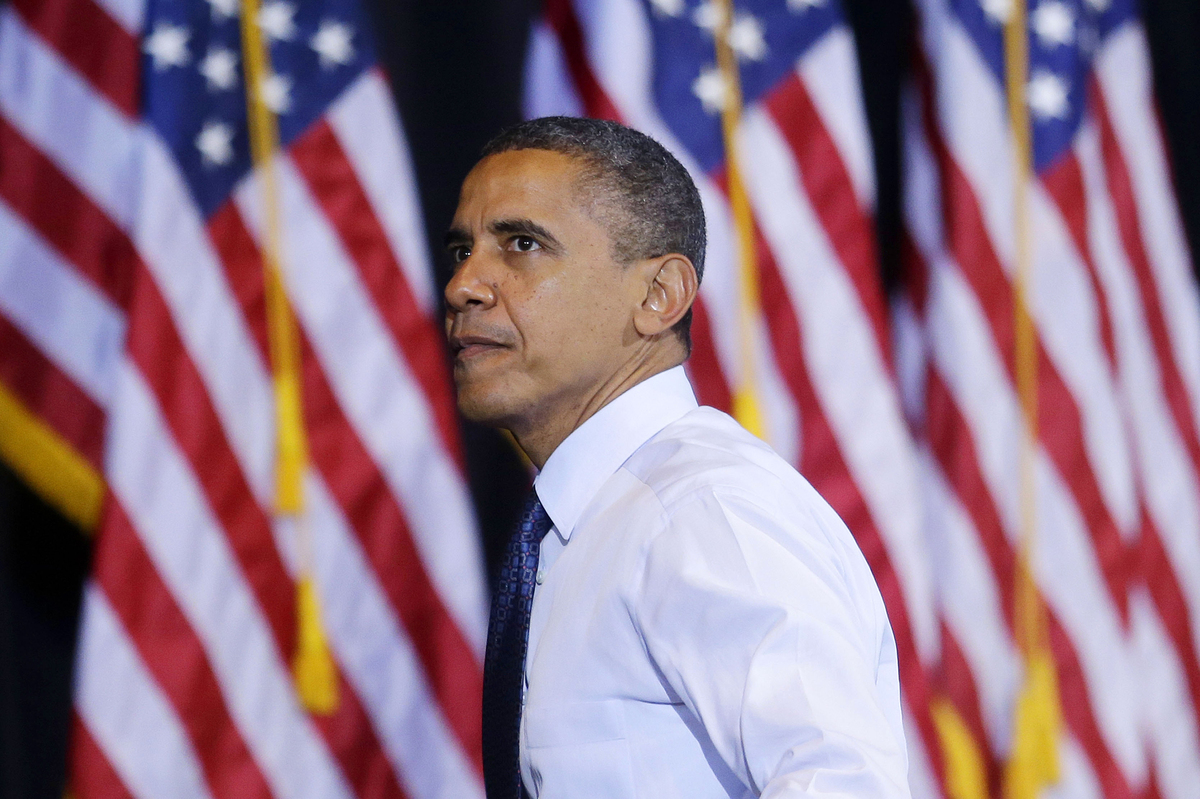 President Barack Obama cuts back campaigning. Regardless of what he does, conservative pounced on it! They are crowing about Gallup's stats on early voting in slight favor of Mitt Romney.
There has been an effort, especially at the top of the ticket, to encourage supporters to do what they can for those impacted by the storm, including through emails urging donations to the Red Cross. That's more in line with what the Red Cross requests than boxes of food. The nonprofit routinely discourages donations of canned goods, suggesting that cash and blood are more useful in times of emergency.
That effort, though, is relatively small in comparison to what voters on the ground are hearing, be it through inundations of ads or calls. And it's not just coming from Republicans. The Democratic Congressional Campaign Committee, for instance, has sent its list a barrage of fundraising emails, though it has carved out donors in states hit by the storm.
At a Monday event in Avon Lake, Ohio, that took place just after his other events were canceled, Romney addressed the storm but also spent plenty of time attacking the president for his record and policies.
His event Tuesday, touted as a "storm relief" effort, did not mention politics at all. "We have heavy hearts, as you know, with all of the suffering going on in a major part of our country," he said at an appearance near Dayton, Ohio, before collecting and boxing donations to be sent to New Jersey. He spent slightly under an hour on the effort.
Hell or high water!
The event took place in a crucial swing state -- curiously far from the storm itself, as Politico's Ben White pointed out on Twitter Monday after it was announced.
"Romney is doing a 'storm relief' event in Ohio? Why not come to NYC and give us a hand," he tweeted. "Fine by me if candidates want to go back to campaigning, just patronizing to pretend it's something else," he added.
The Romney campaign did not respond to request for comment on general criticism of the event.
Romney's running mate,Ryan, spent Tuesday visiting campaign offices to thank those collecting donations -- and ostensibly those working toward his and Romney's election.
Both Romney and Ryan will be back to campaign events Wednesday, with the presidential nominee in Florida and the vice presidential nominee in Wisconsin. Ryan will campaign in Colorado on Thursday.
Former New Jersey Gov. Christine Todd Whitman, a Republican who also served as administrator of the Environmental Protection Agency, told Politico Tuesday that Romney would be best served by letting the situation run its course without saying anything.
It's somewhat easier for President Barack Obama to cancel campaign events -- he has presidential duties to attend to that can still work to his advantage by allowing him to display his ability to deal with a crisis. He canceled campaign events for Monday, Tuesday and Wednesday. He will travel on Wednesday to see the damage in New Jersey and meet with Gov. Chris Christie -- an event that will surely be photographed.
His campaign is still running, though. Former President Bill Clinton, a top surrogate, attended events on Tuesday in Minnesota and Colorado. Vice President Joe Biden's Tuesday event was canceled, but he will be back on the road later this week, with stops in Iowa on Thursday and Wisconsin on Friday.
The Obama campaign held a press call on Monday to criticize Romney and released statements doing the same. Its ads, and the Romney campaign's, are still on the airwaves across the country, and more are being released.
Outside groups haven't slowed down either. American Crossroads and Crossroads GPS, both conservative groups, announced Monday they had spent $10.5 million in ads for senatorial candidates. Pro-Romney super PAC Restore Our Future will air $2.1 million of ads in Pennsylvania. The conservative American Future Fund purchased $2.6 million in ad space for pro-Romney spots in Colorado, Minnesota, Wisconsin and Nevada.
On the Democratic side, American Bridge made a smaller ad buy Monday of $111,000, with an additional $50,000 spent on targeted ads, accusing Romney of treating the rich differently than the middle class.
Even top Romney adviser Stuart Stevens allowed that the campaign video playing at the "relief" event was a bit much. "I don't know how it happened," he said, adding: "Some volunteer just pressed play, I guess."
The relief event over, Romney zipped out of Ohio. "The Romney campaign is scrambling to get the plane off to Florida 4 hours ahead of schedule before Sandy really hits Ohio," tweeted NPR's Ari Shapiro.