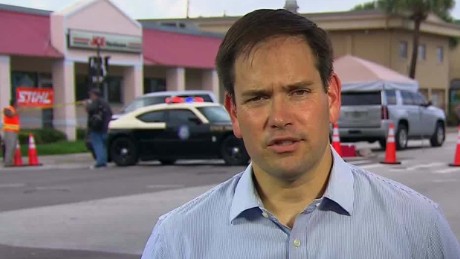 Failed presidential candidate Marco Rubio doesn't call the Orlando shooting a hate crime. He calls it "radical Islam".This is an prime example of terrorism. The U.S. senator and many Republicans forget that the victims were part of the LGBT community. They pretend to be "concern" about the victims.
GUN VIOLENCE IS THE NUMBER ONE THREAT IN THE UNITED STATES.
There were probably many other gun crimes in the city of Orlando. This one managed to touch us all.
What has the junk food media and the world watching was the worst mass shooting in American history. The Pulse Nightclub shooting in Orlando by this madman sparked feverish debate over gun control, terrorism, bullying at the workplace, protecting those who LGBT and Muslims in the wake of a tragedy.
Already, Zero Hedge and The Gateway Pundit are saying this terrorist was a "liberal" and "registered Democrat". These websites are part of the problem here in America. They rush to judgement and we're quickly condemn people who are not the shooter. I don't give a flying fuck about the political views of a terrorist. They often do this nonsense to deflect the issues away from conservatives.
Obviously, if he was a registered Democrat, you wouldn't hear the name U.S. senator Marco Rubio or Florida governor Rick Scott. Yeah, he came from a district that is R+3 and it's represented by Patrick Murphy, a congressman who is running for the senate as a Democrat. He was a Republican who got fed up with the insurgency's ignorance. He and his challenger Rep. David Jolly (R-FL) will beg for the NRA's support.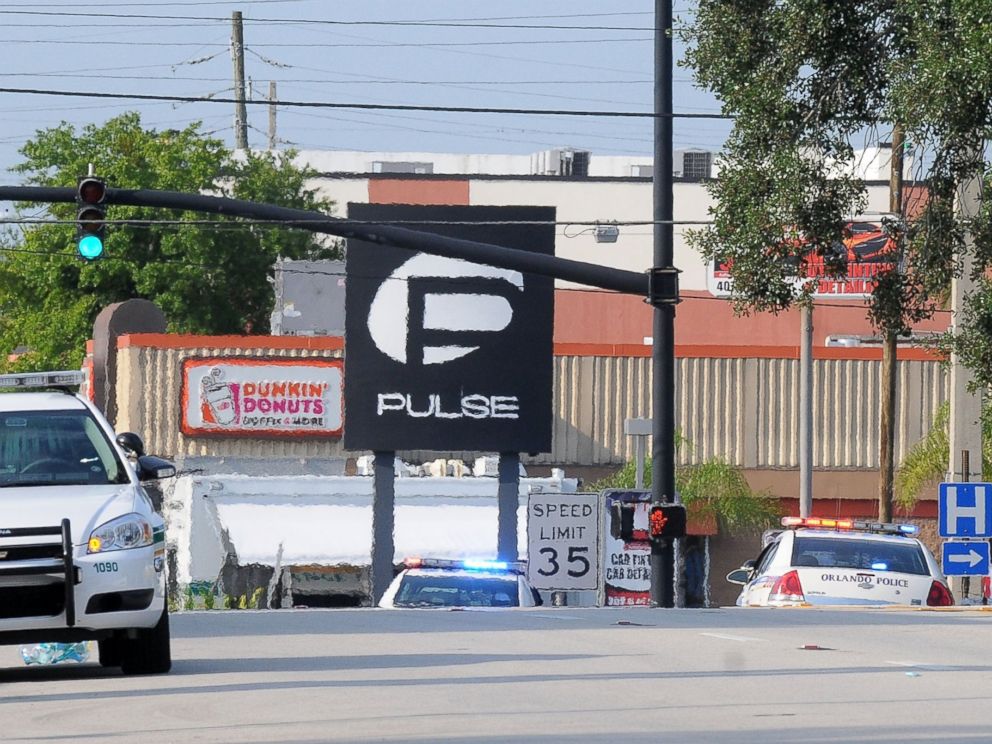 After the junk food media leaves the area, what happens next?
The Republican presumptive nominee Donald Trump licked his chops yesterday by posting on social media that he was "right" about this tragedy. This is the 15th time President Barack Obama spoke to the nation on the wake of a mass shooting. Obama said this was an act of terror and hate.
The terrorists believe that the inept Congress is giving away the farm. The inept Congress will not pass a law that bans automatic assault weapons or a stricter background check. Law abiding individuals can purchase a firearm. Even if you're under federal watch, you can purchase a firearm.
If you say that you hate Blacks, Hispanics, illegals, Muslims, gays, Jews, police, America and the government in rantings or public venue, you're entitled to do so. You are still able to purchase firearms. You're not committing any criminal act whatsoever. You just expressing violate speech.
If you were under federal watch, as long as you hate without causing an eminent threat, you can gun hoard.
Republicans quickly pounced on the president for not saying *drumroll* "radical Islam". Yet, they refuse to say this act was a hate crime.
How is saying "radical Islam" fighting terrorism?
Nothing.
Like I've said, the
Republican and conservative agitators use the only muscle they got in the fight against terrorism. It's their tongues.
And it's tongue tied with rhetoric that's not helpful in stopping it.
In other words, this was terrorism and a hate crime. This was an event in which a madman massacred so many people who were out having a good time.
Republicans now start having "concern" for the LGBT community. They continue to push the narrative that if "the good guy had a gun". The good guy had a gun, he was shot at and a member of the SWAT team got hit in the head by the gunman. Luckily, he was protected by his teflon helmet.
Republicans are saying that the LGBT community should start thinking about how Democrats treat them as pawns in the wake of a mass shooting.
In Elkhart, Indiana, President Barack Obama said with frustration that he has a list of people on federal watch and he can't stop them from purchasing firearms because the inept Congress won't pass legislation that bans semi-automatic firearms. They can't pass a stricter background check.
The good guy with a gun was nearly killed by the terrorist.
I am having trouble trying to understand that for all the innocent lives killed in senseless acts of violence, we debate this stuff and then after awhile it disappears from the radar.
Over 50 people lost their lives to this senseless act of violence for being gay, transgender or straight.
They were having a good time at the club. Who knew that their night out was their last! Besides the death of 29 year old terrorist Omar Mateen, the victims who were confirmed by the Associated Press include a various group of men and women between the ages of 21 to 42. There were 36 names released to the junk food media.
Stanley Almodovar III, 23
Amanda Alvear, 25
Oscar A. Aracena-Montero, 26
Alejandro Barrios Martinez, 21
Martin Benitez Torres, 33
Darryl R. Burt II, 29
Simon A. Carrillo Fernandez, 31
Juan Chevez-Martinez, 25
Luis Daniel Conde, 39
Cory James Connell, 21
Tevin Eugene Crosby, 25
Franky J. Dejesus Velazquez, 50
Deonka D. Drayton, 32
Leroy Valentin Fernandez, 25
Mercedez M. Flores, 26
Juan R. Guerrero, 22
Peter O. Gonzalez-Cruz, 22
Miguel Angel Honorato, 30
Javier Jorge-Reyes, 40
Jason Benjamin Josaphat, 19
Eddie J. Justice, 30
Anthony L. Laureanodisla, 25
Jean C. Mendez Perez, 35
Kimberly Morris, 37
Luis O. Ocasio-Capo, 20
Eric I. Ortiz-Rivera, 36
Joel Rayon Paniagua, 32
Enrique L. Rios Jr., 25
Xavier E. Serrano Rosado, 35
Gilberto R. Silva Menendez, 25
Edward Sotomayor Jr., 34
Shane Evan Tomlinson, 33
Juan P. Rivera Velazquez, 37
Luis S. Vielma, 22
Luis D. Wilson-Leon, 37
Jerald Arthur Wright, 31
Let's remind the kookspirary nuts on the internet that these victims aren't "crisis actors." This is not a FEMA training video or a deliberate government sanction murder. This is a crazy man with a gun firing off at anyone standing in his way.
FBI director James Comey said that the terrorist had faced bullying from co-workers. His ex-wife said that he was abusive to her and showed signs of bipolar disorder. His father said that he held strong angst towards gay men who were in public kissing or holding hands. The FBI said that in their investigation of the terrorist, he told them he was "joking" and upset over being bullied over his religion.
All these issues don't excuse the callous acts of this terrorist. But it's giving the insight to the motives.
THE NICE GUY + DEEPLY HELD RELIGIOUS BELIEFS + TIES TO ORGANIZATIONS OR INSPIRATION BY EVENTS (FOREIGN WAR/BULLIED/LOST A JOB/FAILED RELATIONSHIP) + SOFT TARGETS (MALLS/SCHOOLS/MOVIE THEATERS/NIGHTCLUB/CHURCH) + ACCESS TO FIREARMS (AR 15) + NAME RECOGNITION (SUICIDE NOTE/WRITTEN MOTIVES) = JUNK FOOD MEDIA COVERAGE.
World News Today send our condolences to the victims.
Our friends in LGBT and Muslim community grieve with the rest of the world.