The memorable scene where Andre Lyon was close to ending his life. Trai Byers is threatening to leave hit drama Empire.
Empire already is a go for season three on Fox. But the rumor mill has been buzzing about a key actor planning on bouncing from the hit hip-hop drama. Trai Byers who plays Andre Lyon may leave the show after the season finishes.
Andre Lyon is the oldest son and is just as ruthless as his father Lucious Lyon. He is married to Rhonda and their expecting a child in show. He is bipolar and struggling to find a way to deal with the business and the cutthroat tactics of his father.
Empire Cast:
Terrance Howard: Lucious Lyon
Taraj P Henson: Cookie Lyon
Jussie Smollett: Jamal Lyon
Trai Byers: Andre Lyon
Bryshere Y. Gray: Hakeem Lyon
Grace Gealey: Anika Calhoun
Kaitlin Doubleday: Rhonda Lyon
Gabourey Sidbie: Becky Williams
TaRhonda Jones: Porsha Taylor
Serayah McNeill: Tiana Brown
He felt that Lee Daniels and Danny Strong have ignored him as a main character. They focused on the breakout stars Terrance Howard, Jussie Smollett, Bryshere Y. Gray and Taraj P. Henson.
Page Six of the tabloid The New York Post said that the actor was frustrated that he's not getting more screen time and felt that the show isn't worth his time. He's a thespian not a gangsta, says the sources.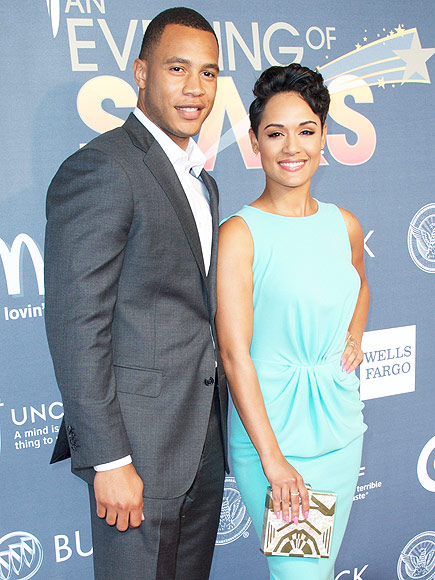 Byers with girlfriend, co-star Grace Gealey.
The report says that "Trai threw a temper tantrum during filming in the past weeks saying, 'I don't get do enough, I might leave'. But producers called his bluff and said, 'Fine, if you're not happy, we don't need you.'"
Sources also added, "He thinks he is a brilliant guy who deserves a better role, but he's hardly one of the most popular or dynamic actors on the show. He also fired out the cannon his reps for not getting him big movie roles."
But Byers shot down the rumors quickly. The reasons unknown.
Of course, I know! Daniels and Strong told him about Mo'Nique. The comedian won an Academy Award for supporting actress in the blockbuster drama Precious. She was on top of the world until she found out that her services weren't needed.
She was blackball'd out of Hollywood. Mo'Nique blames Lee Daniels for ruining her career. She is currently feuding with the producer. Gabourey Sidibe, also stars in Empire.
I see the cracks at the bottom on the series. Ratings have taken a downturn. I mean at debut premiere it took in 18 million viewers. Throughout season one, it was clocking 9 to 15 million viewers (including DVR).
Byers said that he's happy to be on the show and he's not leaving. But a cryptic message from Taraj kind of says that he's could be written out of the show if he acts a fool. So if Byers want to get fired out the cannon, would it hurt the show?
Empire is going to hit ABC and CBS where it hurts, Once Empire comes back on, ABC sitcoms Modern Family and Black-ish will take a slight drop in the ratings.
Empire is a success.
The show has dominated in ratings since its premiere in January 2015. The show was granted a second season after the third episode by the Fox executives. Fox has already green lights The Simpsons, Gotham, Bob's Burgers and Empire. Bones was green lighted for a final season.
New Girl, Lucifer, Rosewood, Brooklyn Nine-9, Family Guy, The Last Man on Earth, Sleepy Hollow, Last Chance, The Grinder, Grandfathered, Barrett Cooper's Guide.... are on the bubble. Some may survive the cut.
I predict the other survivors would be Family Guy, Rosewood, Brooklyn Nine-9, The Grinder, Last Man on Earth and Lucifer.
I think New Girl will be cut. But it could survive if the show would crossover to MTV or TBS in the coming.