Rupert Murdoch jumps onto social media to say that he longs for a real Black president. The media mogul racially insults President Barack Obama, the country's first Black president.
Barack Obama had froze out that network and its parent company NewsCorp during his 2008 presidential campaign. He cited the network's ongoing and relentless attacks on him and his family.
Obama is currently the president. Matter of fact, he is the 44th President of the United States. He is the first African American to ever become the president. He is biracial. He identifies himself as Black. He is married to Michelle (nee Robinson) and has two daughters Malia and Sasha.
He was born August 4, 1961 in Honolulu, Hawaii. He spend most of his life in Chicago, Illinois.
Obama became a U.S. Senator in 2005 and served three years in the Senate before he declared his intention to run for president. He face a bitter primary against then U.S. Senator Hillary Clinton.
Obama would defeat Clinton and former U.S, Senator John Edwards before becoming the nominee.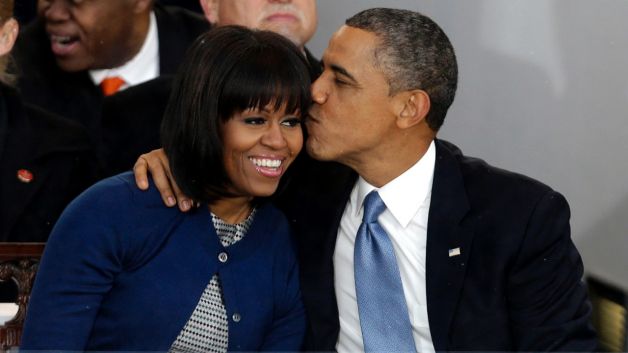 President Obama been with Michelle most of his life. Murdoch has went through three bad marriages. Who's a real man?
He would appoint then U.S. Senator Joe Biden to be his running mate and they would face Republican Arizona senator John McCain and his running mate Sarah Palin, then governor of Alaska.
Obama would beat McCain in a landslide victory.
During the 2008 run, that network ran every trick out the book. The network would loop Jeremiah Wright, Bill Ayers, Muslim, socialist, spread the wealth, pigs with lipstick, proud of my country, bitter clingers, no experience, community organizer, being too Black (or too White) everyday on that network.
Obama blamed that annoying conservative agitator for being one of the driving forces to why he refuses to give interviews with the network. That network deliberately lies about Obama's policies and panders to a segment of society that many judge as extremists in their own right.
Obama had a private sit down with the president of the network and then CEO of NewsCorporation.
Obama was really angry with the way the network covered his campaign. He warned the network that if he becomes president, the network would shut out indefinitely.
In 2012, the network continued its relentless attacks on the president. The president had called out the network and its agitators by name.
The network was hoping perennial loser Mitt Romney would win. Didn't happen. Obama would beat the perennial loser in a landslide.
To this day, I haven't seen the president do an one-on-one interview with that network much.
Republican candidate Ben Carson with wife Candy.
The White House confirms that President Barack Obama will treat the network like Republican politician. Obama warned Democratic politicians and candidates about being on that network. They have to be on their A-game if they are challenged by the agitators. Democrats who appear on that network better be prepared to challenge every talking point.
The network was founded in 1996 by the Australian-born billionaire Rupert Murdoch. He launched the network in response to MSNBC and CNN's so-called liberal bent.
Murdoch appointed Roger Ailes as the president of the network. Ailes was a Republican political hitman and former agitator on cable news.
The media mogul goes to social media to show praise for Ben Carson.
Ben and Candy Carson terrific. What about a real black President who can properly address the racial divide? And much else.

— Rupert Murdoch (@rupertmurdoch) October 8, 2015
He cites a New York Magazine article about some Blacks expressing disappointment with President Barack Obama.
— Rupert Murdoch (@rupertmurdoch) October 8, 2015
Then after a day of condemnation, Rupert finally apologizes for his "real Black president" comment.
Apologies! No offence meant. Personally find both men charming.

— Rupert Murdoch (@rupertmurdoch) October 8, 2015
Carson who is currently in second place after Donald Trump has seen his stock rise. In the wake of numerous controversies, Republicans are still supporting this guy. Carson is a Black Republican who gained fame by insulting Obama at the National Prayer's Breakfast in 2013.
Carson was once a commentator on that network along with Rick Santorum, Mike Huckabee, Carly Fiorina and numerous others.
Murdoch is a controversial figure in the media world. Many cite him as the reason to why the media sucks. They look at him as a slime. Murdoch tries to meddle into politics. He and top ranks over at News Corp send memos urging whisper campaigns against politicos who they fear may interrupt the conservative movement.
His tabloids overseas were caught a real scandal. They were caught wiretapping British politicians and celebrities. Some American celebrities living overseas were concerned that Murdoch's lackeys hacked into their phones and shared private photos.
Murdoch has went through three disastrous marriages. He's worth an estimated 354 billion.