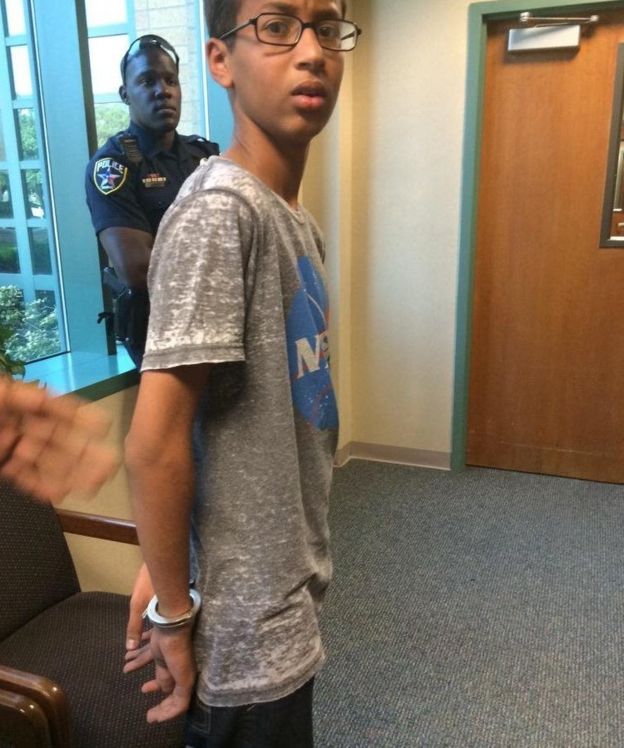 This became a national story. This didn't come up in the Republican debate. The Black Lives Matter activists have followed the story. Facebook CEO Mark Zuckerburg and even the White House have came to the defense of this young teen.
The Council on American Islamic Relations has filed a lawsuit on behalf the teen who was busted for bringing in a clock to his high school. The teacher thought the teen brought a bomb to school.
He was arrested and suspended from school. Today he was granted access back to school. He refused to return. Ahmed Mohamed has told the junk food media that he's getting the heck out the school and will file a lawsuit against the Irving Texas Independent School District.
Ahmed became a social media topic over few past days.
Texas, huh! No surprise here! This is the state that advocates for conservative themed history books.
So this English teacher thought a device Ahmed brought into school appeared "suspicious in nature".
"I built a clock to impress my teacher but when I showed it to her she thought it was a threat to her. I'm very sad that she got the wrong impression of it," said Mohamed.
He was questioned about the device. He was told that he would be held in the pre-lockup until further notice. He managed to get his family to take this picture. This picture went across the social media and took off.
People blasted the school board and the city of Irving for jumping to conclusions. The mayor did shoot back saying that the "safety" of her community always comes first. While she does understand that the situation was unfortunate, his arrest was justified.
Irving Police determined that they weren't going to file charges against Ahmad. They also fought back the accusations of profiling.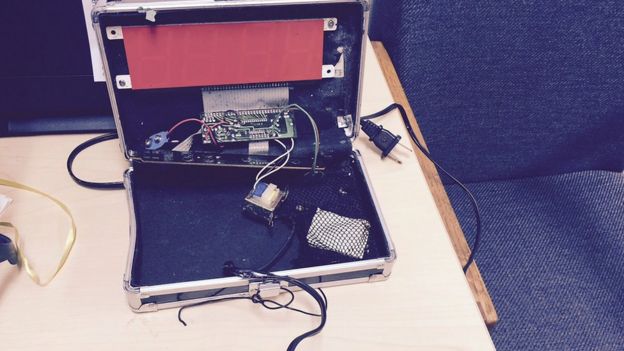 Da "bomb".
"We have always had an outstanding relationship with the Muslim community," Irving Police Department chief Larry Boyd said on Wednesday. "Incidents like this present challenges. We want to learn how we can move forward and turn this into a positive".
The boy was placed in handcuffs and fingerprinted. He was released after it was determined there was no threat.
Ahmed Mohamed's arrest has been sharply criticized, and the boy has received an outpouring of support including an invitation to the White House.
Ahmed told reporters it was "very sad" that his teacher thought his clock was a threat.
The McArthur High School freshman was a bright standout who is an inventor. He was mistaken for a "terrorist" according to his sisters and friends.
At a news conference on Wednesday afternoon, Ahmed announced he plans to transfer schools.
Harvard and MIT is anxious in Ahmed's talents.
Ahmed's father Mohamed Elhassan Mohamed, who is originally from Sudan, praised his son's ingenuity, saying he fixes everything around the house, including his father's phone and computer.
"He's a very smart, brilliant boy and he said he just wanted to show himself to the world," he said.
The teenager said another teacher became aware of it when the device beeped during the lesson. "She was like - it looks like a bomb," he said.
The homemade clock consisted of a circuit board with wires leading to a digital display.
Later in the day the boy was pulled out of class, interviewed by senior teachers and four police officers, and put into juvenile detention.
The school issued a statement saying it "always ask our students and staff to immediately report if they observe any suspicious items".
World News Today wish Ahmed well wishes on his journey to success.