Overtime play for Jayecon Taylor. The rapper is releasing The Documentary 2 to celebrate the 10 year anniversary of his mainstream album The Documentary.
Fuck 50, I don't need ya broke ass on my album, ha ha!
This is what Game would say to his former friend 50 Cent. After 50 Cent revealed he filed for bankruptcy after being hit with a massive lawsuit, Game would taunt the media mogul for causing the mess that landed all of the Unit on the indie scene.
See as the Unit, the rappers had an opportunity to make $$$$$$$$$ on Interscope Records.
50 introduced the world to Lloyd Banks, Tony Yayo, Young Buck and The Game. Each of them gain name recognition for their gangsta cred, guns, their hoes and their egos.
All of that was exposed when 50 fired Game out the cannon. Although I don't believe either 50 or Game's reasons to the fall out, I think it had to do with 50's claim of ghostwriting lyrics for seven singles on the album. I also speculate that the two have tried to release their albums in the same period causing a rift between their boss Dr. Dre and chief Jimmy Iovine. Game's crew swamped celebrity agitator Funkmaster Flex's Hot 97 office after hearing the news.
This event gotten so bad a person was injured. Iovine ordered Game and 50 to make peace or face a cannon firing. They did it in front of cameras. But the truce was short lived. Game would release 300 Bars and destroy the credibility of his old group and the Interscope bosses.
Part II
He would release five albums since his departure from the Unit. Interscope fired him out the cannon in 2013 after the final mainstream release Jesus Piece flopped.
As an independent artist, Game can put out whatever bullshit he thinks he can sale. Matter of fact, did you know he released his sixth album Blood Moon Year of the Wolf last year?
Nope. Many haven't and it only sold less than 45,000 units.
Game still hoping to bring the magic back. In 2014, he appeared with Dr. Dre and Ice Cube for the filming of Straight Outta Compton. They posed together. It gave speculation to Game hopping back into the studio with the good doctor.
Now like the good doctor, Game decides to put his seventh album out this year. The good doctor invited his old labelmate on the Compton album.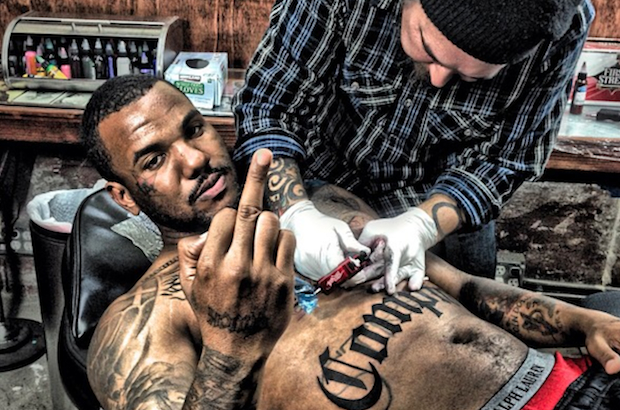 Product of Compton.
Game was hoping to score a beat or verse from the good doctor in return. He also hoping that he finally end the bitter feud between him and 50.
Game has ended feuds with Buck and Banks.
50 and Yayo are still committed to not working with the rapper.
The Documentary 2 is a sequel to the 2005 mainstream album release of The Documentary. The album was executive produced by the good doctor and 50. The album went on to serve up 4 million units sold.
The singles that are released to the mainstream include 100 featuring Drake and Ryda with Detroit rapper Dej Loaf.
Game is hoping to have Dr. Dre's beats on at least some of his album. That's to be determined.
Game is known to stretch the truth a lot. He said he was resigning back to Aftermath and that didn't happen. He said that he will reunite with the Unit. That didn't happen. He said that he will sign to Cash Money/Young Money records. Nope that was bust. He said that he will be releasing his album with all Dre production. That didn't happen. He said the feud with 50 Cent was over. Not quite.
Game and 50's egos are the reason for the downfall of their careers. No surprise though!
Also Game has a reality television show coming this fall. No surprise there.