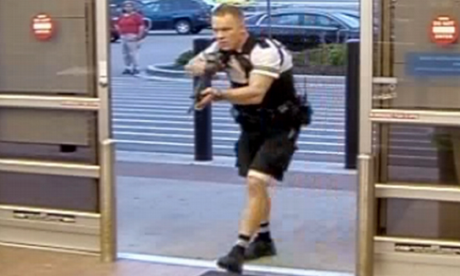 Nobody saying that he's wrong for what he's done. He's just reckless in how he handled the situation. But in a life or death situation, Beavercreek officer Sean Williams didn't even know that John Crawford III was holding a toy. The controversy in Dayton continues. The FBI and U.S. Justice Department is evaluating the handling of the situation.
In the wake of the John Crawford shooting, I want to let you know some facts about this case.
Crawford was legally allowed to walk in the Walmart with the BB gun. Regardless of the firearm as long as he wasn't directing it at people, he's pretty much allowed in the state of Ohio to carry.
The open carry law in Ohio is pretty broad. It advocates firearms in the facility. Walmart doesn't have a restriction on firearms on its facility.
White extremists are proudly promoting their open carry rights in facilities. Do you hear the sirens or calls of suspicious activities going on?
Caption this.
Oh look: another white person carrying a gun in a public place without fear of getting shot by cops. Meanwhile... pic.twitter.com/u5vvPaD0HN
— Tim Wise (@timjacobwise) August 18, 2014
More Americans can carry guns in more places than ever before, by @khwangreports @KateMurphyEU of @news21 http://t.co/6HDgbDijMx
— Public Integrity (@Publici) August 24, 2014
Sick people parading Mass Murder guns in public & letting their kids join them! @Mythicmaster @UniteBlueTX @Everytown pic.twitter.com/IkjYZSlm0t
— Becky Carrizales (@bcarrz) May 3, 2014
Meanwhile, white "open-carry" advocates strap semi-automatics on their backs & order pumpkin spiced lattes. #peachy pic.twitter.com/GOiTXV5E6Q
— Hagure Metaru◆はぐれメタル (@hagure) September 24, 2014
Funny how these open carry scumbags are never shot by police! #inners pic.twitter.com/jTdTo0Je2b
— Political Nerd (@Sttbs73) September 25, 2014
No good reason to head to the frozen-foods aisle with an assault weapon #groceriesnotguns http://t.co/aC6bI6C6Oe pic.twitter.com/HLtZjdK0mI
— KHARY PENEBAKER (@kharyp) September 5, 2014
And all the while, John Crawford III carrying an air rifle was gunned down by two Beavercreek officers. Didn't even get a chance to drop the firearm. The officer Sean Williams let two fly right into the stomach. Shot from a distance. Crawford didn't even approach the officer. He gets off without a murder charge. The Beavercreek city leaders and Republican attorney general of Ohio Mike DeWine pat each other on the back.
Bet ya money they'll never worry too much about these individuals in the Walmart, Kroger, Target, Kmart, Sears, Meijer, HyVee, Publix, Food Lion, Best Buy, Kohl's, Giant Eagle, Costco, Sam's Club and Walgreen's.