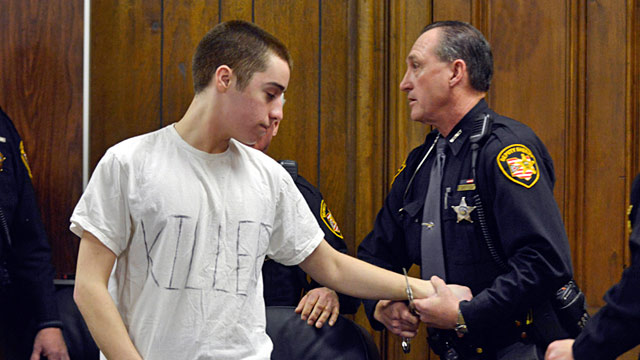 He marked himself as a killer on the tee. Now he can mark himself as the fugitive caught.
The Associated Press reports that fugitive T.J. Lane was caught by the Ohio State Patrol aided with the U.S. Marshals after breaking out of the iron college. He's a high profile figure in the Ohio law system. The teen was a mass shooter in the 2012 Chardon massacre. He killed three teens and inured one so badly he can't move physically anymore.
This escape may have him spending more than a few years in the I-SO (isolation). He's already got LIFE.
Authorities say they have apprehended the convicted killer of three Ohio students who escaped from a prison.
Nineteen-year-old T.J. Lane escaped Thursday night with two other inmates from the iron college in Lima, about 80 miles south of Toledo. One was captured quickly.
The Ohio State Highway Patrol and police in Lima said around 1:30 a.m. Friday that Lane had been caught. No further details were available.
It was not known if the other inmate, 45-year-old Clifford E. Opperud, had been apprehended.
Lane pleaded guilty last year to shooting three students in February 2012 at Chardon High School, east of Cleveland. Prosecutors say he took a .22-caliber pistol and a knife to the school and fired 10 shots at a group of students. Lane was given three life sentences.
The Dayton Daily News reports that Opperud was also caught near his hometown of Carlisle, Ohio.
Clifford Opperud, of Carlisle, was apprehended this morning.
He is serving a 15-year sentence, court and records show.
.
He was arrested after he pretended to be collecting money for charity, and then pulled out a gun and went inside a couple's home. Renee Belcher of Hamilton used to work for the victims and told Opperud which items to steal, according to court reports.