Labor day has passed and there was talk about the president's golf outing being squashed after a rival banned him from his properities.
The feud between the carnival barker and President Barack Obama gets even more nastier.
According to some, the Trump properties denied a permit for the president to play on one of that windbag's golf courses.
Donald Trump, a real estate mogul and reality turd is hosting the final season of The Celebrity Apprentice and hoping to make this one a blow out.
We'll see.
As a fierce critic of Obama, Trump makes it no secret that he doesn't like the president. He told employees of his properties that the president is banned.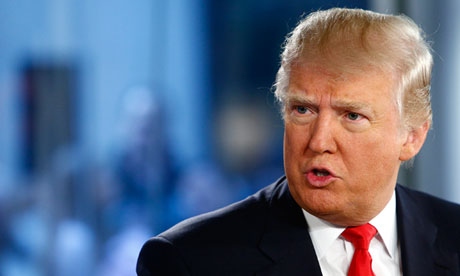 Carnival barker Trump continues his pointless feud with the president.
The only way the mogul will let the president in is he either give up his title or show his real birth certificate.
Several posh golf courses, including Trump National Golf Club, turned down President Obama's request to tee off on their links over Labor Day weekend.
Though the request was a day or two in advance, the Westchester courses, such as Winged Foot and Willow Ridge, declined so they wouldn't have to shut down the entire course to accommodate the president, and could instead could cater to its regular members, club sources told WNBC. He had been in town Friday, Aug. 29 for fundraising events in New York and Rhode Island.
The three golf courses declined for comment. Though the president planned to stay in Westchester that Friday before a wedding the next day, he made a last-minute decision to return to Washington. White House spokesman Josh Earnest said the return had no ties to "current events."