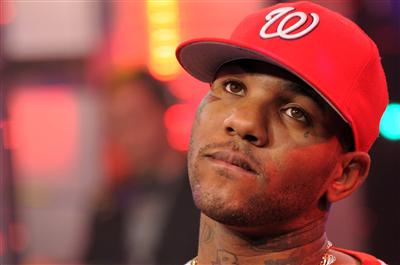 Entertainer couldn't ink a deal with a major label. Now he's jumped to the independent circuit.
Again, there's a reason to why Curtis Jackson won't reunite with the former fifth member of the Unit.
Something must have happen? I mean last year, there was talk that the fifth member would ink a deal with Dwayne Carter, Bryan "Birdman" and Ronald "Slim" Williams' label.
Note that most rappers never put the contract on the internet. I am certain he wasn't that dumb! Somehow while doing an interview overseas with British DJ Tim Westwood, he kept ducking the question about signing with Dwayne Carter.
"I'm independent right at this moment. I ain't got no labels. I'm not signed to Interscope, I ain't signed to Geffen. I ain't signed to sh**. I got Blood Money [Entertainment], I started that up," the entertainer explained to Tim Westwood. "Me and Birdman, we met. We chopped it up. It's possible. Now, we letting the lawyers do the talking and figure it out. Most likely, we will, but it's still Blood Money.
"If it happens, yea" the entertainer said, when asked if it'd be a joint Blood Money/Cash Money venture.
So now all of sudden, it's revealed that his next album Blood Money La Familia, will drop through a joint venture with eOne Music.
He does one thing and then turns up doing another. It's a damn shame though, he's a highly talented rapper/entertainer. His negatives usually involve the name dropping of individuals and bipolar feuds with Curtis Jackson and Jay-Z.
Many people felt that Jayecon Taylor's reign on the West has come to an end.
Now today, I can assure that I was once a fan of The Game.
I was down with The Game. Even through his fallout with Curtis Jackson, I've support him. Throughout his bid with Dr. Dre.
Now I have to find myself finally understanding why Curtis Jackson booted the entertainer off the Unit.
He said that he was resigning to Aftermath Entertainment. Nope. He was signed to Geffen Records.
He said that he was the founder and CEO of Black Wall Street Records. Nope. He has no stake or control of that label. The label put out no acts other than him.
He said that it's Cash Money/Young Money 4 Life. He even dropped a stack for a Cash Money necklace. A necklace that was handed to him by second stringer Tyga and not Dwayne Carter.
That Cash Money deal is huge no!
Now this week we hear that he's signed on to the eOne Record label.
Kiss and make up.
It proves Curtis Jackson's point that there's no reason for reuniting with him. He told the press that if the situation was different, he would have worked with him.
But for Jayecon Taylor and his massive ego, it's apparent that a hard head continues to lead to a failed musical career. From the start, Jayecon couldn't muster enough credit to those who put his ass out there.
50 Cent and Dr. Dre contributed, wrote, and produced The Documentary. That is fact.
Game never gave them props for his mainstream success. To make this clear, he owes them.
50 Cent made it clear, if Game would have supported him during his feuds with Ja Rule, Fat Joe, Nas, and Jadakiss, none of this would have happen.
Game wanted to beef with Joe Budden, Memphis Bleek, Young Gunz and Jay-Z. People who had not ills towards 50 Cent and the Unit.
Now that 50 Cent and Game are finally off Interscope, maybe they'll find comfort back where they've started. On the independent circuit where they can pick what songs will be played (whether they're wack or not). They can claim most of their royalties.
David "Young Buck" Brown, Marvin "Tony Yayo" Bernard and Christopher "Lloyd Banks" Lloyd already jumped on the independent circuit.
With that being said, the Unit reunited this week for Summer Jam 2014. It was a moment that could revive an already dead cliche and clique.
Understand this. The Unit is officially dead. There's no need to rebuild, remodel, or restructure the group. It's over. When 50 Cent left the Interscope label, it practically put an end to his Unit.
The Game Is Over!
Also Game also got a dose of beef from soon to be federal time out interment Gucci Mane aka GWoup.