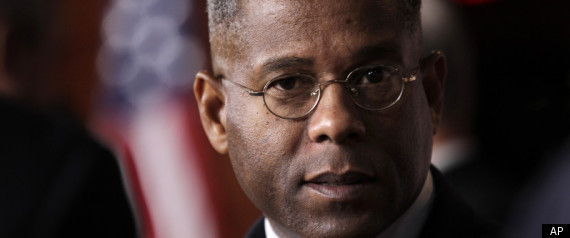 Controversial Florida politician Allen West of Florida is getting his recount. The Black Republican refuses to concede his race because he claims that there's antics at the ballot box! His Democratic opponent Patrick Murphy won by slim margin and the embattled Republican won't give up!
Defeated Florida Republican congressman Allen West isn't giving up his seat. He's contesting the results of the election.
His opponent Patrick Murphy is representative-elect and he's about to be seated shortly. But the Tea Party endorsed congressman isn't willing to let that happen. For you see, West is one of two Black members of a majority White political party hasn't conceded his race. There's thoughts of deception on his mind.
The Republican is fighting his defeat in the court. And with two strikes on his belt, he'll end up having one more opportunity before officially striking out.
The St. Lucie County Canvassing Board ordered a recount of early ballots in his race against Democrat Patrick Murphy for Florida's 18th Congressional District, NBC Miami reports.
West, a controversial freshman congressman elected in the 2010 Republican landslide, appeared to have lost his contest against Murphy by 0.7 percentage points after all ballots were initially counted last week. The margin of victory was too large to trigger a recount, and the state of Florida certified the race's results on November 10. West, however, refused to concede, claiming "discrepancies" in early voting results.
A federal judge had ruled against West's request for a recount earlier on Friday, saying he lacked the authority to make such an order. The St. Lucie Canvassing Board then ruled by a 2-1 vote to recount early ballots in the race, although it denied West's request to recount absentee ballots as well. "A series of tabulation errors by the county has raised suspicion among West's campaign and it's supporters and appeared to motivate the board's favorable vote," according to NBC Miami.
Murphy's campaign has dismissed calls for a recount, insisting that West is merely trying to cling to the spotlight after a clear defeat. West's campaign struck back, saying in a statement:
Patrick Murphy has had such a good time with Nancy Pelosi pretending to be a congressman, he realizes a recount would likely derail his plans, and that's why his lawyers promised a lawsuit if all votes are recounted fairly and accurately. It's an interesting stance from a candidate who said he was the clear and outright winner.
St. Lucie County has until Sunday to file its certified results with Florida. It is one of three counties included in Florida's 18th Congressional District.
This why people like West and Mitt Romney are doomed for political failure. They don't care about the constituents. In their minds, if you're a supporter of the president, they think of you as a dependent of government entitlements and victims. It's clear that Republicans haven't gotten the message. And mark my words, if they don't get their act together, in 2014 the Democrats will steamroll over them.