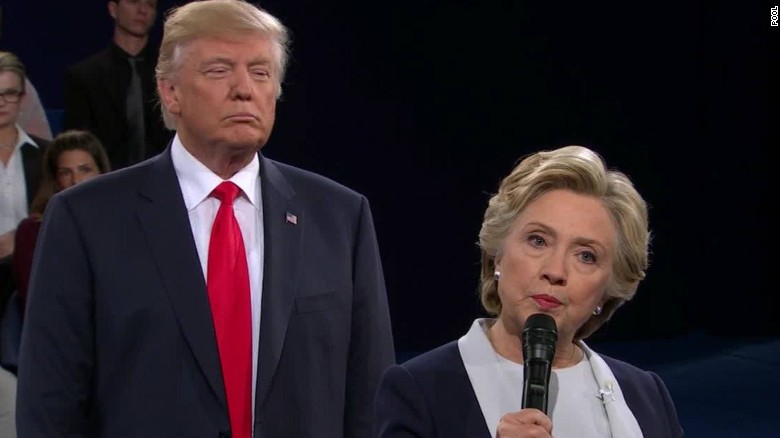 Trump is going to be even more combative towards Clinton.
We're all but certain that Donald J. Trump will clearly bring everything he's got to take down Hillary Clinton. The Republican nominee is so upset that's he's struggling, he's decided to rile his supporters up with kookspiracy stories.
Trump invited Pat Smith, the half-brother of President Barack Obama, Malik and alt-right agitator James O'Keefe to the debate.
Pat Smith is a relentless critic of Obama and Clinton. She blames the pair for her son Sean Smith being killed in the 2012 attack in Benghazi.
Malik Obama is the half-brother of the president. He's an anti-gay politico who has dual citizenship with Kenya and the United States. Malik said he endorsed Trump for president this year. He also brought the man who claims Bill Clinton is his father.
James O'Keefe is a notorious concern troll who does "investigative" journalism for conservatism. He's the famous "ACORN Pimp" who gain fame and infamy for altering his tapes to make people he recorded seem sinister than what they were. He and his former girl Hannah Giles were forced to pay a man $100,000 and punitive damages after he was fired out the cannon by ACORN. O'Keefe has released numerous videos claiming activists were intentionally agitating at Trump rallies. He makes claims that the Clinton campaign and the Democratic Party were paying these people to infiltrate events.
I have no word on who Clinton's bringing in. But I expect it's going to be polarizing Mark Cuban, the celebrity agitating billionaire who owns the Dallas Mavericks, Rev. Jesse Jackson and Planned Parenthood president Cecile Richards.
Expect Chris Wallace to find some curve ball in this debate. He's the Fox News GOP Sundays and was the first moderator for the first Republican debate in Cleveland.
So I be perfectly blunt with you. Donald Trump will have to stay focused on topics and not stray off the plantation with accusations.
Who won this debate?
So here the deal....