Republicans will likely keep their hold on the Senate.
This has been a very unproductive year for the Republican-led Congress. The House and Senate have spent a majority of their time trying to oppose the president's policies and repealing the laws created from the previous sessions.
They are officially back to work. They got a highway spending bill to pass. They got to pass a budget for the fiscal year. They have to raise the debt ceiling. They have to authorize the president's military action to fight against the Islamic State. They also have to decide on the Six Power resolution on Iran.
The Republicans have signaled opposition to the Iranian deal. They have promised to pass a temporary stop gap bill for highway funding. They want to repeal the healthcare law. They want to cut funding to Planned Parenthood. They want to pass the reactionary Kate Steinle law.
President Barack Obama promised to veto any legislation that goes against his agenda.
So far the job approval of Congress is 13%. The leadership of Senate Majority Leader Mitch McConnell (R-KY) and House Speaker John Boehner (R-OH) have been dismal at best.
By far, Republicans are fucked. The longtime lawmakers fear they may be usurped by insurgents.
Could the insurgents retake Congress once again?
Rep. Tammy Duckworth (D-IL) vows to beat Sen. Mark Kirk (R-IL). The double amputee veteran could win. She could be the first Asian American woman from the state to be a senator.
My best thoughts on the U.S. Senate race include the ones the junk food media will focus on.
So far I count this as unpredictable. It's a matter of anti-establishment or anti-politician. It's a focus rather on Obama fatigue or the inept Republican led Congress.
The races so far are handicapped by SAFE, LIKELY, LEAN or TOSS UP.
Anything I say doesn't matter. I don't control the mind of a voter. But I will tell you that the Republicans have to the most seats up for grabs. The Democrats have the most to defend.
So far, if the elections were today, Republicans would retain seats and earn two. Democrats would retake two and retain most of their seats.
I can't predict the outcome but I guarantee that most of these candidates will survive an election. A few of them might have an insurgent challenger in the primaries. But who knows?
Alaska (Lisa Murkowski) (Running) (Safe Republican)
Hawaii (Brian Schatz) (Running) (Safe Democrat)
Washington (Patty Murray) (Running) (Safe Democrat)
Oregon (Ron Wyden) (Running) (Safe Democrat)
California (Barbara Boxer) (Retiring) (Safe Democrat)
Nevada (Harry Reid) (Retiring) (Toss Up)
Idaho (Mike Crapo) (Running) (Safe Republican)
Utah (Mike Lee) (Running) (Safe Republican)
Arizona (John McCain) (Running) (Likely Republican)
Colorado (Michael Bennet) (Running) (Toss Up)
North Dakota (John Hoeven) (Running) (Safe Republican)
South Dakota (John Thune) (Running) (Safe Republican)
Kansas (Jerry Moran) (Running) (Safe Republican)
Oklahoma (James Lanksford) (Running) (Safe Republican)
Iowa (Chuck Grassley) (Running) (Likely Republican)
Missouri (Roy Blunt) (Running) (Likely Republican)
Arkansas (John Boozeman) (Running) (Safe Republican)
Louisiana (David Vitter) (Undecided) (Safe Republican)
Wisconsin (Ron Johnson) (Running) (Toss Up)
Illinois (Mark Kirk) (Running) (Toss Up)
Indiana (Dan Coats) (Retiring) (Likely Republican)
Kentucky (Rand Paul) (Running) (Likely Republican)
Ohio (Rob Portman) (Running) (Likely Republican)
Alabama (Richard Shelby) (Running) (Safe Republican)
Georgia (Johnny Isakson) (Running) (Safe Republican)
Florida (Marco Rubio) (Retiring) (Toss Up)
Pennsylvania (Pat Toomey) (Running) (Safe Republican)
Maryland (Barbara Mikulski) (Retiring) (Safe Democrat)
North Carolina (Richard Burr) (Running) (Likely Republican)
South Carolina (Tim Scott) (Running) (Safe Republican)
New York (Chuck Schumer) (Running) (Safe Democrat)
Connecticut (Richard Blumenthal) (Running) (Likely Democrat)
Vermont (Patrick Leahy) (Running) (Safe Democrat)
New Hampshire (Kelly Ayotte) (Running) (Toss Up)
The most competitive races I predict will be Nevada, Florida, Ohio, Colorado, Illinois and Wisconsin.
These seats were won by Barack Obama in 2008 and 2012. Four states are controlled by Republicans governors: Nevada, Florida, Ohio, Illinois, and Wisconsin.
Colorado is controlled by a Democratic governor.
Sen. Michael Bennet (D-CO) the most vulnerable Democrat running for the senate.
Ron Johnson and Mark Kirk are the most vulnerable Republicans in this race. They have the most to fear because of the state's political leans. Scott Walker who is running for president has terrible job approval in his state. His bid for president could be an anchor for Johnson. Matter of fact, there could be a federal probe into Walker's office. Wisconsin voters are unpredictable. They have voted for Walker three times. He survived. Could Johnson survive? He will likely face the former senator Russ Feingold. The Democrat was defeated in the insurgent wave. Feingold is considering another challenge against his old nemesis.
Kirk on the other hand has the most to lose. Kirk holds on the old seat once held by then senator Barack Obama. Kirk had an opportunity to retire when he suffered a stroke. But he held on to the seat. He also said some offensive things about fellow senator (presidential candidate) Lindsey Graham (R-SC). Kirk has to deal with the most competitive challenger the Democrats lined up. Rep. Tammy Duckworth (D-IL) has signaled her intention to run. She like Sen. Tom Cotton (R-AR) have both served in the Iraqi War. She is a double amputee who won against an insurgent in 2012. She easily won her seat in 2014. The Democrats hope that she could built enough support to take on well funded Kirk.
Michael Bennet is the most vulnerable Democrat in the race. Bennet survived an insurgent challenge the first time, but could he face another one? Colorado Republicans have embraced weed legalization and a more stern stances to immigration. Insurgent Rep. Ken Buck (R-CO) who faced him will likely sit it out. But the only candidate I can see willing to challenge Bennet is former secretary of state Scott Gessler. It's a toss up. Gessler's history could be a potential problem. Also the only Republican confirming a run is Darryl Glenn. He is an El Paso County commissioner. He has little name recognition.
Ohio's Rob Portman hasn't lost an election. He may face former Democratic governor Ted Strickland in this race. Portman is well funded and his job approval is decent here. John Kasich's run for president and his job approval may inspire Republicans to vote likely for Portman. He is one of the few Republicans to endorse marriage equality. He is also a political moderate who works with Democrats at some point.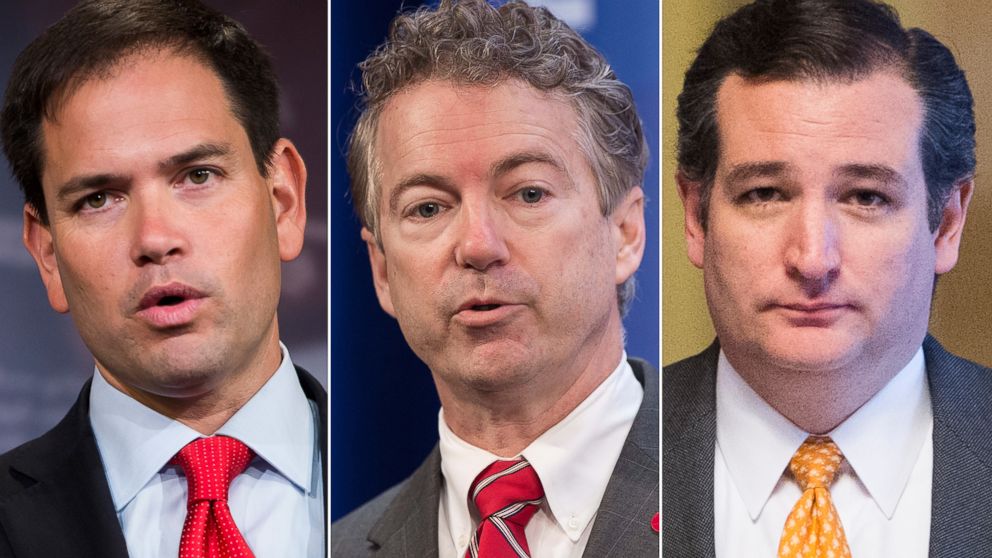 Senate Majority Leader Harry Reid is retiring. He is part of the gridlock machine that kept Congress at record low job approval. His retirement is a good thing for Washington. It's a bad thing for Democrats. They have a real good fight on them. They have to line up a candidate to take on the potential Republican. No candidate inspires me. Talk radio agitator Wayne Allan Root is too extreme. Shannon Angle is too dumb. Democrats are corrupt in Nevada. Who knows? We'll see if there's a candidate willing to take the seat.
Florida's Marco Rubio decided to run for president. He can't be on the ballot twice. So he opt out for retirement to focus solely on the presidential run. He has nothing to lose. He may win the nomination. But then again, he may be a potential veep candidate. He, Sen. Ted Cruz (R-TX) and Sen. Rand Paul (R-KY) have chosen to take the gamble of being relatively unaccomplished politicians running for the nomination. Rubio's job approval is bad in Florida. The Republicans have to scramble to find a candidate willing to defend the seat. Rep. Patrick Murphy (D-FL), a conservative leaning Democrat has signaled a run for the seat. I don't see any inspiring Republican challenger. The state is a toss-up for two reasons. Florida is a major swing state. Rick Scott sucks as a governor and his job approval could hurt the Republican nominee. Freshman insurgent Rep. David Jolly (R-FL) has signaled his intentions for the U.S. Senate seat. He recently won after Bill Young died.
Sen. Rand Paul is running for president and as a senator. Donald Trump put his bid in jeopardy. The people of Kentucky have soured upon Paul for his inept actions. He hasn't accomplish much as a senator and they're likely to reward him another term. But he may face a primary challenger if he opts out the presidential bid for the senate. Paul is an insurgent candidate who's got the most to lose. If he fails to get the nomination, he will continue his bid for the senate. As Trump said, why would Kentucky be willing to take a candidate who has failed!
Sen. John McCain from Arizona is by far the most annoying of the establishment. He will face a likely challenger from the right. He beat J.D. Hayworth in a primary fight in 2010. Trump mocked McCain on his status as a POW. McCain mocked Republicans for taking a tough stance on immigration. Trump used that as an advantage as well as his failed bids for president. His former running mate Sarah Palin will not endorse his bid. While the state is leaning as a swing, it's still has strong Republican hold. McCain running could be a safe bet. But given his standings with the party establishment and his inconsistent stances on issues, he could be beaten. Arizona will be a likely Republican hold.
Okay, what's your thoughts on this?
Share your thoughts?