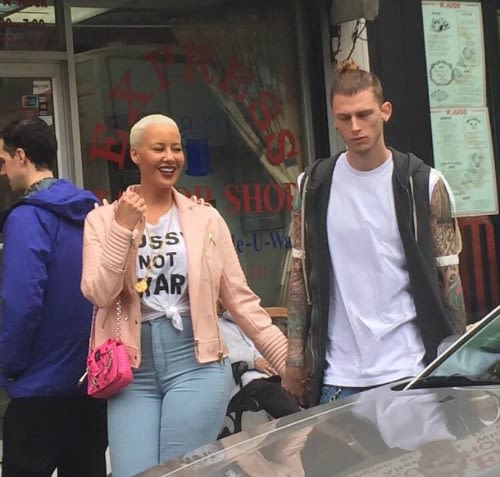 Famed model Amber Rose spotted with rapper Machine Gun Kelly.
Cleveland rapper and producer Machine Gun Kelly confirms he's dating model Amber Rose. They've been dating for a few months now and the junk food media is talking about it.
Despite her ex-husband Wiz Khalifa pleading to get back together, the marriage is over and Amber Rose wants someone who can be there for her and her son.
Enter Machine Gun Kelly. The Cleveland rapper who had collaborated with Wiz Khalifa is now budding a romance with his ex-wife.
They spent Mother's Day together.
Machine Gun Kelly (born Richard Baker and is most commonly referred as MGK or Kellz) has been a rising figure in the hip-hop game. He signed to Bad Boy Records and recorded his national debut Lace Up. He's working on his second album on Bad Boy and his EST19XX label.
Sharing the bud....and the woman.
This comes as no surprise that Wiz had recorded Mind of a Stoner with Kellz. Damn it's like the bro code is broken. They worked together, smoke together, fuck the same woman.
I see how Kanye West felt when he and Wiz beefed over Amber. Now I am guessing Kellz and Wiz will smoke a joint and diss each other.
Rose filed divorce papers in September 2014 after a little more than a year of marriage, citing irreconcilable differences.
IBT reports that Wiz and Amber spent time together with their two-year-old son Sebastian as a family over Easter, many believed the married couple were back on track.
Now, Wiz is said to have released a song detailing his heartbreak following the end of their marriage, with lyrics including: "Thought I had it, all the magic I could imagine, then it all went tragic, automatically I'm the bad one, I was only doing us.
"I gave you everything, a kid and a house, and a wedding ring, and now you talkin' 'bout how you could do better things."
Kellz has a daughter with his former girl. The rapper expressed his love for his child, Cassie.
So do you believe in the bro code?
The bro code is a pop theme created by How I Met Your Mother. Cater Bays and Craig Thomas created the term for Neil Patrick Harris who played womanizer Barney Stinson.
The code is an etiquette for men to follow. It's similar to M.O.B. (Money over Bitches).