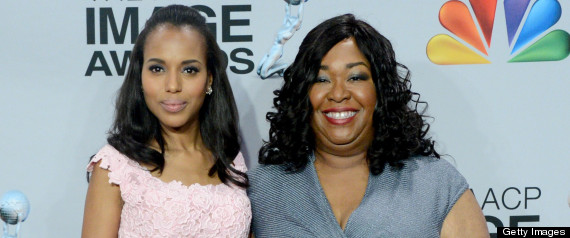 Kerry Washington with Shonda Rhimes. Washington is the star of ABC's hit drama Scandal. Rhimes created Grey's Anatomy, Scandal, Private Practice and co-signed the production of Peter Nowalk's How To Get Away With Murder.
ABC is hanging on to Grey's Anatomy, Scandal and the newest fall show How To Get Away With Murder. The creator of the shows, entertainer Shonda Rhimes is a well paid success.
There's a controversy building up in the junk food media. It involves the old perception of powerful, intriguing and forceful women. According to the racist right, any Black woman in power is a problem to them.
Alessandra Stanley a television critic for the New York Times wrote that the roles featuring Black actresses in the staring roles the results, perceived as "angry Black women" leads.
Rhimes is an American screenwriter, director, and producer. Rhimes is best known as the creator, head writer, executive producer and showrunner of the medical drama television series Grey's Anatomy, its spin-off Private Practice and political thriller series Scandal. In May 2007, Rhimes was named one of TIME magazine's 100 people who help shape the world.
Rhimes was an executive producer for the medical drama series Off the Map which aired on ABC from January 12, 2011 to April 6, 2011. Rhimes' new show for ABC is the legal series How to Get Away with Murder, which will debut in the 2014-15 season.
Rhines went to the social networks to put the brakes on the criticism.
Wait. I'm" angry" AND a ROMANCE WRITER?!! I'm going to need to put down the internet and go dance this one out. Because ish is getting real.
— shonda rhimes (@shondarhimes) September 19, 2014
Apparently we can be "angry black women" together, because I didn't know I was one either! @petenowa #LearnSomethingNewEveryday
— shonda rhimes (@shondarhimes) September 19, 2014
Does the New York Times understand who they're talking about?
This woman is probably one of the most powerful figures in the entertainment industry.
To be downgraded to being this angry Black woman is not only offensive to her works, but another reason to why the junk food media will never (and I mean never understand) the Black community.