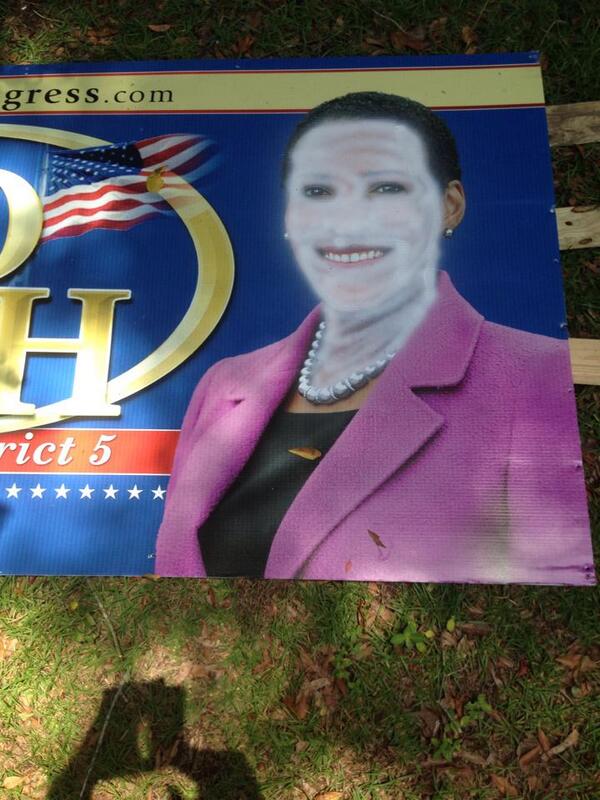 This is not what Gloreatha Scurry-Smith said, but I am guessing this is how the Republican Party thinks and believes of her. One could wonder if this was a deliberate stunt to gin up support for her against her opponent in the Republican primary next month.
Will she denounce the Republican Party for it ongoing racism towards Blacks and Hispanics?
Will she denounce the ignorance that gins up from their fears of Muslims, those in LGBT community or the independent woman?
It's never gonna happen! She'll just blame the other party or Black people for this.
I wouldn't be surprised she'll blame the Democrats for this one. After all she's a Black Republican and I guess she believes that the "Democrat Party" enslaves Blacks to the gubmint.
The Huffington Post reports that Gloreatha "Glo" Scurry-Smith, who is running in the Florida GOP primary to take on Rep. Corrine Brown (D) in November, recently experienced a very disturbing case of racial discrimination.
On Sunday, Smith tweeted a picture of a vandalized campaign sign, in which her face was covered in white spray paint.
Smith, who says her husband found the sign in Jacksonville, Florida, told National Review that she "expect[ed] signs to be tampered with or stolen, but not to this extent."
The Black Republican with That Guy Who Helped Obama Win and Suga Cain.
"Throughout this entire incident, I go back to Martin Luther King's comment that we look forward to a time when people will not be judged by the color of their skin, but by the content of their character," Smith added. "I've got too much work to focus on to be bothering with things like this."
Brown said regarding the incident that "to be talking about signs is ludicrous to me -- and you know, and whatever happened was unfortunate but I personally do not get involved in campaigning months in advance."
Smith has spoken to numerous local media outlets and posted the following messages on her Facebook page after an initial post about the photo:
Her primary opponent, Thuy Lowe, condemned the vandalism.
"I was shocked by this," Lowe told National Review. "There have been some comments out there that this may have been caused by bigotry. This is a message that she is an African American woman who is a Republican and therefore has a white point of view."
The GOP primary will be held on August 26.
I believe this is a political stunt created by her campaign to make it seems like she's a "victim" of hate.
No one with the right mind would spray a campaign sign. Scratch that. Only those who want to agitate the junk food media. I can only hope that Americans would denounce this crap.
But we'll see if this is real or a political stunt.