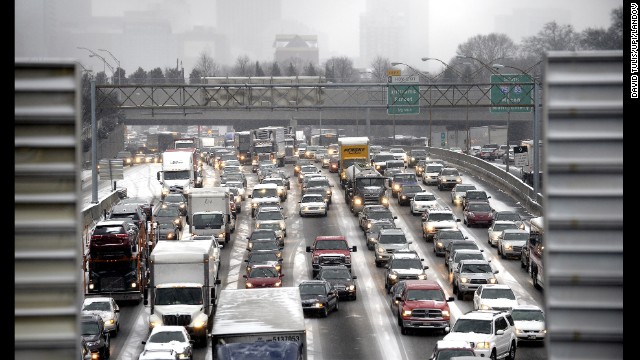 One of the nation's busiest expressways was shutdown after major snowfall.
The southern playground is facing a snow emergency.
Atlanta, New Orleans, Birmingham, Montgomery, Charlotte, Columbia and Raleigh got a horrible taste of winter weather.
The migrants of the Midwest and Northeast wanted to escape to the South.
I guess they've brought their old ways down to the South.
Major snowfall happens to plague the South. And most Americans were caught off guard by it.
Georgia Republican governor Nathan Deal and Atlanta independent/Democratic mayor Kasim Reid taken heat for the lack of preparedness for this weather event.
Pictures of the major highway complex of Interstate 75/85 shows that the 12 lane expressway between Midtown and Downtown Atlanta a parking lot. It shows a bunch of cars parked in gridlock because the snow plows didn't come and the roads were extremely dangerous.
At least a number of people have died in the Polar Vortex event.
We here at Journal de la Reyna send our condolences to those lost in this event/
Stress extreme caution during weather events.
Prolonged exposure to the elements will affect your skin. Make sure you are prepared by wearing warm gloves, a wool or knit cap, proper shoes and boots. Make sure you check your fluids and tires.
Tire pressure is essential when dealing on the roadways. If you are to have an emergency, make sure you have bottle water, some parishable food, a nice blanket. hand warmers and proper medicine.
Make note that in the first respond units and tow companies are overwhelmed during these events. You have to have patience whenever you're stranded. Some events could take up to 3 hours if you have a non-emergency accident.
Also heed snow emergencies warnings. If you're having either a level 1 or 2 event, it's noted that you're taking an extreme risk going on the roads. Level 1 means the roads are dangerous use extreme caution/
Level 2 means that roads are impassable you are to avoid travel if absolutely necessary.
Level 3 means that you are risking a citation if you're out on the roads when its noted that roads are extremely dangerous and emergency personal is required on the roads during the event.
Be safe on the roads during the remaining winter. Your life is more important.