One of the nation's oldest bakery may go under.
American businesses in support of the perennial loser Mitt Romney are taking their frustration on the worker.
Papa John's, an Applebee's franchisee, Murray Energy want to punish the employees of their companies because President Barack Obama trouncing Mitt Romney.
Hostess is the home of the Twinkie, Wonder Bread, the Ding-Dong, the fruit pies and powered donuts. They've seen rough times. With the rising costs our grains, eggs and milk, food processing companies such as this are driving the prices on the consumer.
With an overweight population, Americans are dropping the donuts and Twinkies. The sugar wars claimed a victim and Hostess was its name!
The bakery stores across the nation will eventually root out their supply and then shut down!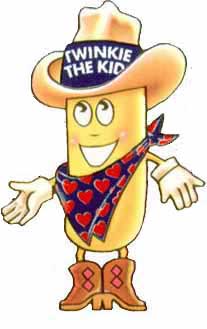 A famed icon Twinkie The Kid!
American workers are seeing the companies take away their benefits. While the executives take home huge bonuses and perks, their workers are left with the scraps.
The Associated Press reports Hostess Brands says it is going out of business, closing plants that make Twinkies and Wonder Bread and laying off all of its 18,500 workers.
The Irving, Texas, company says a nationwide worker strike crippled its ability to make and deliver its products at several locations.
Hostess Brands was founded as Interstate Bakeries Corporation (IBC) in 1930—is the largest wholesale baker and distributor of bakery products in the United States, and is the owner of the Hostess, Wonder Bread, Nature's Pride, Dolly Madison, Butternut Breads, and Drake's brands. For many years it was based at 12 East Armour Boulevard, Kansas City, Missouri. In 2009, after it emerged from a 2004 bankruptcy, the name was changed to Hostess Brands, Inc., and the headquarters moved to Irving, Texas.
Hostess Brands, Inc., declared Chapter 11 again in 2012.
On November 16, 2012, after threatening two days earlier to liquidate unless bakers striking in protest against a new contract imposed in bankruptcy court returned to work, management announced they have ceased operations at all plants. Management intends to sell all assets and lay off 18,500 employees.
In May, all 19,000 workers had been warned (as required by the Worker Adjustment and Retraining Notification Act) that they could face a mass layoff.
The Bakery, Confectionery, and Tobacco Workers International union, which represents 6,600 Hostess employees, took the strike action after the latest contract proposal from Hostess Brands was rejected by 92 percent of its members. In response, Hostess Brands issued the following statement:
"A widespread strike will cause Hostess brands to liquidate if we are unable to produce or deliver products. If that's the case, the company will move promptly to lay off most of its 18,300-member workforce and focus on selling its assets to the highest bidders. We urge our employees to remain on the job to rebuild the company."