Big Snoop keeps taunting Trump
Remember Big Snoop trashed on Donald J. Trump during his celebrity roast on Comedy Central.
Snoop Dogg hates Trump. Hates him so much he decided to mock the inept leader by throwing an ode to Ice Cube.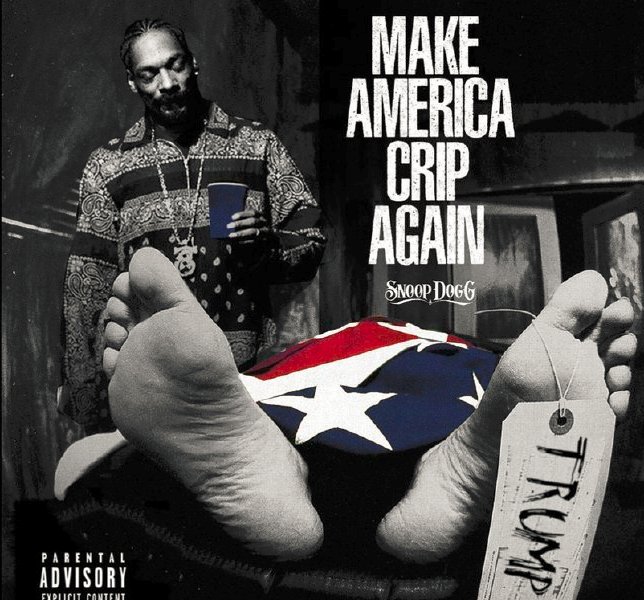 Snoop Dogg Poses Over Trump Corpse...
On the right wing news aggregator The Drudge Report, it went bananas over this cover and I expect conservatives to be outraged. Mind you, Trump just said today that "political correctness" hurts America.
It seems like Big Snoop is taking Trump's advice reasonably well.
The tracklisting
1. "M.A.C.A."
2.
"3's Company"
Feat. Chris Brown and OT Genasis
3. "Good Foot"
4. "Dis Finna Be a Breeze" Feat. Ha Ha Davis
5. "None of Mine"
6. "My Last Name" Feat. October London
7. "Sports Center" Feat. Designer Flow
8. "Fly Away" Feat. Shon Lawon
The rapper joins a laundry list of entertainers who say FDT.
If you want to hear the album click on APPLE Music look.
As expected, Fox News and right wing demogugues are complaining about it.
The very same people who disrespect Barack Obama, Michelle Obama and Hillary Clinton.
Trump is an embarrassment to the world.