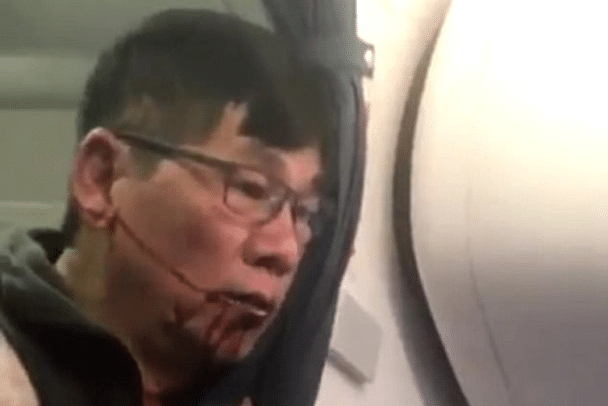 Passenger gets roughed up on United Airlines. It went viral.
I wonder if the passenger was a Black person being ejected, would the junk food media and notably the conservative agitators make light of the situation in favor of the company?
We all heard about the United Airlines fiasco. I really didn't want to bother posting on the controversy because I wasn't interested in this.
But since the controversy grew, the person involved hired a lawyer and the junk food media is quarterbacking on how United Airlines can survive the scandal.
On April 9, David Dao was dragged off the United Airlines Flight 3411 at O'Hara International Airport bound for Louisville.
The flight was overbooked and the crew wanted four seats for airline staff. The plane was sold out.
When no passengers volunteered to exit the flight after being offered $800 in flight vouchers, United staff selected four people to leave. Three did so, but Dao refused to do so. He was pulled from his seat by the Chicago Department of Aviation. He was dragged in the aisle with Dao sustaining a significant concussion, broken teeth, a broken nose and other injuries. The incident was capture on cellphone and it touched off a discussion on how airlines are treating their passengers.
Doa is Asian American and a doctor. He hired a lawyer and is seeking punitive damages.
He is 69 years old and a resident of Elizabethtown, a city located 70 miles from Louisville Metro.
His attorney Tim Demetrio said that facial surgery will repair damages from the encounter.
United at first was defending its actions. The CEO of the company Oscar Munoz made an apology but urged a strong rebuke to the incident. He said that the safety of United staff is very important, inconveniences do happen but this should have been solved without force.
"We continue to express our sincerest apology to Dr. Dao. We cannot stress enough that we remain steadfast in our commitment to make this right. This horrible situation has provided a harsh learning experience from which we will take immediate, concrete action. We have committed to our customers and our employees that we are going to fix what's broken so this never happens again. First, we are committing that United will not ask law enforcement officers to remove passengers from our flights unless it is a matter of safety and security. Second, we've started a thorough review of policies that govern crew movement, incentivizing volunteers in these situations, how we handle oversold situations and an examination of how we partner with airport authorities and local law enforcement. Third, we will fully review and improve our training program to ensure our employees are prepared and empowered to put our customers first. Our values -- not just systems -- will guide everything we do. We'll communicate the results of our review and the actions we will take by April 30. United CEO Oscar Munoz and the company called Dr. Dao on numerous occasions to express our heartfelt and deepest apologies."
Dao is being driven through the mud over allegations of illegal prescription trade for sex.
A man of color was forced off his flight. He gets bloodied and bruised. He is embarrassed by the event. He takes legal action.
Now the junk food media is trying to shame him. United created a P.R. mess.
Regardless of what Dao did in the past, the present matters. We can't judge a man from his past. He was trying to get back to see his family and didn't have to give up his seat. United should have thought about how many people are able to be seated. They should have done better.
Nonetheless, what's your take on the matter?